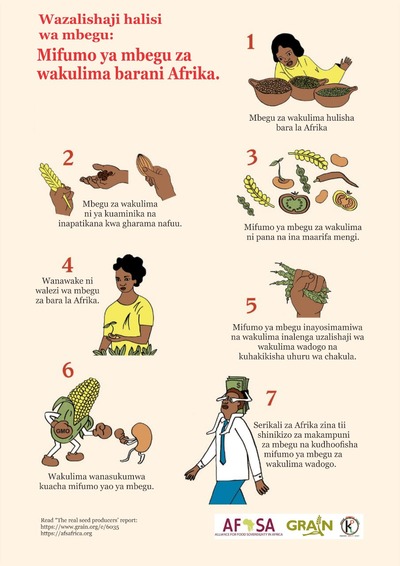 Swahili
Wazalishaji halisi wambegu: Mifumo ya mbegu za wakulima barani Afrika.
Mbegu za wakulima hulisha hara la Afrika.
Mbegu za wakulima ni ya kuaminika na inapatikana lnva gharama nafuu.
Mifumo ya mbegu za wakulima ni pana na ina maarifa mengi.
Wanawake ni walezi wa mbegu za bara la Afrika.
Mifumo ya mbegu inayosimamiwa na wakulima inalenga uzalishaji wa wakulima wadogo na kuhakikisha uhuru wa chakula.
Wakulima wanasukumwa kuacha mifumo yao ya mbegu.
Serikali za Afrika zina tii shinikizo za makampuni za mbegu na kudhoofisha mifumo ya mbegu za wakulima wadogo.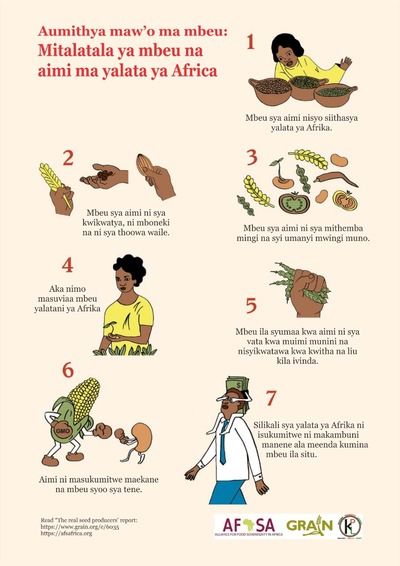 Kamba
Aumithya maw'o ma mbeu: Mitalatala ya mbeu na aimi ma yalata ya Africa
Mbeu sya aimi nisyo siithasya yalata ya Afrika.
Mbeu sya aimi ni sya kwikwatya, ni mboneki na ni sya thoowa waile.
Mbeu sya aimi ni sya mithemba mingi na syi umanyi mwingi muno.
Akanimo masuviaa mbeu yalatani ya Afrika
Mbeu ila syumaa kwa aimi ni sya vata kwa muimi munini na nisyilnvatawa kwa lnvitha na liu kila ivinda.
Aimi ni masukumitwe maekane na mbeu syoo sya tene.
Silikali sya yalata ya Afrika ni isukumih-ve ni makambuni manene ala meenda kumina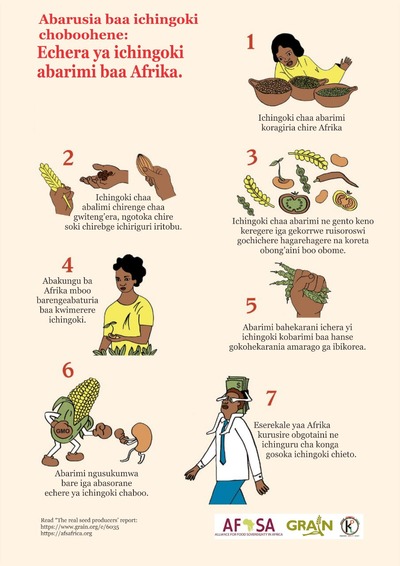 Kuria
Abarusia baa ichingoki choboohene: Echera ya ichingoki abarimi baa Afrika.
Ichingoki chaa abarimi koragiria chire Afrika
Ichingoki chaa abalimi chirenge chaa gwiteng'era, ngotoka chire soki chirebge ichiriguri iritobu.
Ichingolti chaa abarimi ne gen to keno keregere iga gekorrwe ruisoroswi gochichere hagarehagere na koreta obong'aini boo obome.
Abakungu ba Afrika mboo barengeabaturia baa kwimerere ichingoki.
Abarimi bahekarani ichera yi ichingoki kobarimi baa hanse gokohekarania amarago ga ibikorea.
Abarimi ngusukumwa bare iga abasorane echere ya ichingoki chaboo.
Eserekale yaa Afrika kurusire obgotaini ne ichinguru cha konga gosoka ichingoki chieto.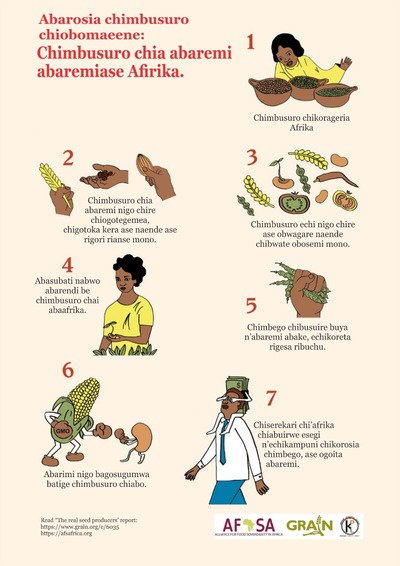 Kisii
Abarosia chimbusuro chiobomaeene: Chimbusuro chia abaremi abaremiase Afirika.
Chimbusuro chikorageria Afrika
Chimbusuro chia abaremi nigo chire chiogotegemea, chigotoka kera ase naende ase rigori rianse mono.
Chimbusuro echi nigo chire ase obwagare naende chibwate obosemi mono.
Abasubati nabwo abarendi be chimbusuro chai abaafrika.
Chimbego chibusuire buya n'abaremi abake, echikoreta rigesa ribuchu.
Abarimi nigo bagosugumwa batige chimbusuro chiabo.
Chiserekari chi'afrika chiabuiiwe esegi n'echikampuni chikorosia chimbego, ase ogoita abaremi.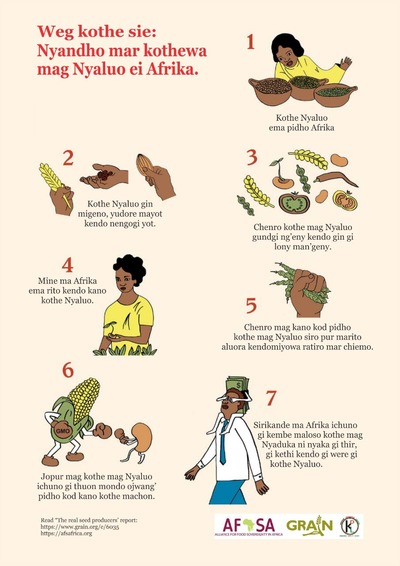 Luo
Weg kothe sie: Nyandho mar kothewa mag Nyaluo ei Afrika.
Kothe Nyaluo ema pidho Afrika
Kothe Nyaluo gin migeno, yudore mayot kendo nengogi yot.
Chenro kothe mag Kyaluo gundgi ng'eny kendo gin gi lony man'geny.
Mine ma Afrika ema rito kendo kano kothe Nyaluo.
Chenro mag kano kod pidho kothe mag Nyaluo siro pur marito aluora kendomiyowa ratiro mar chiemo.
Jopur mag kothe mag Nyaluo ichuno gi thuon mondo ojwang' pidho kod kano kothe machon.
Sirikande ma Afrika ichuno gi kembe maloso kothe mag Nyaduka ni nyaka gi thir, gi kethi kendo gi were gi kothe Nyaluo.