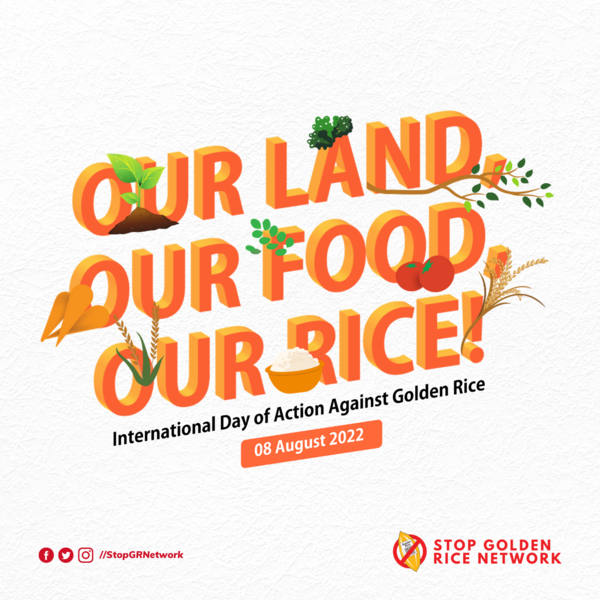 SGRN statement on 8 August 2022 - International Day against Golden Rice
Golden Rice and the push for GMOs won't solve food crisis, it will make it worse
Seeds are being colonised by big corporates. Rice, until now, is not yet fully colonised by the seed industry with farmers retaining the ability to save and replant those seeds. Rice is also a key staple food in many Global South countries which are currently at the centre of today's food price crisis.
As the world faces a worsening food crisis – the third in 15 years – various analyses point out that we face a food price crisis and not a shortage of food. Farmers around the world are grappling with a doubling and even tripling of prices for inputs, especially chemical fertilisers. Consumers can't afford the spiralling costs of food either, with global food prices rising by 33.5 percent for the past two years, and expected to increase even more this year.
Instead of working on solutions that reduce cost, increase access and nutrition, globally corporations and their supporters in governments are pushing expensive and unsustainable agricultural technologies. While the number of hungry people across the globe has almost doubled in the past two years, multinational food and agriculture corporations have at the same time
reaped in
billion
s of
dollars of
ballooning
profit
s
. Billionaires involved in the food and agribusiness sector have seen their wealth increase by US$ 382 billion (45%) over the past two years–an indication of how multinational corporations are exploiting and directly benefiting from the crisis.
Among those corporations, Syngenta, which received US$ 8.9 billion profit – a 26 percent increase - in the first quarter of 2022, owns the license of technology used to develop Golden Rice.
The commercialization of Golden Rice in the Philippines and the
promotion and
de-regulation
of GMOs
, including gene-edited crops, across the globe during a period of intense food crisis does not bode well. It threatens to exacerbate inequality and contribute further to the loss of people's food sovereignty–one of the main reasons why hundreds of millions remain food insecure, despite supposed "advances" in plant technology. Climate crisis is leading to food crisis. Climate action is asking for reduction in fossil-fuel based agriculture, shifting away from chemicalised agriculture and contamination of germplasm. Farmers in some European countries are protesting against the "The Great Reset' and other forms of industrial agriculture. Golden rice is one of the elements of this "Reset" agricultural plans.
Big corporates want to extend Green Revolution methods through Golden Rice and other GM crops, primarily designed to wrestle control of land, food and agriculture out of people's hands. We must see them for what they are: profitable products being disguised as panaceas for so many of humanity's problems: hunger, climate change, poverty, malnutrition and more. For farmers, preserving, sustaining, and advancing traditional knowledge and farmers' wisdom; developing, multiplying, and freely sharing their own seeds; and fighting for control over their lands and resources remain at the core of their struggle against GMOs and against corporate and imperialist control that is responsible for inequality and the destruction of our food systems.
Stop Golden Rice Network, with the support of rice farmers across Asia, rejects Golden Rice and is committed to exposing the real business strategies behind its promotion. It calls on regulators to assess the long-term effects of Golden Rice on the environment, including its possible effects on the genetic diversity of the thousands of rice varieties being cared for by small scale farmers and indigenous peoples. Farmers cannot forego their right to protect natural germplasm and seed sovereignty.
----------------
Stop Golden Rice Network (SGRN) is a regional campaign network geared towards strengthening network support and campaign collaboration against the onslaught of corporate control in food and agriculture. It has more than 30 members coming from Bangladesh, India, Indonesia, Japan, Philippines, Sri Lanka, Thailand and Vietnam among others, as well as several regional formations forwarding food sovereignty and campaigning against corporate control on food and agriculture.
For more information please visit SGRN facebook page or message us at
[email protected]