Supermarket Asia bulletin #20 - November 2020
Editorial
International Street Vendors' Day and the need for collective struggle
It's the 20th edition of our quarterly Supermarket Asia bulletin, five years since we first started and it's still going strong! Thank you to everyone who has contributed and supported this bulletin.
It's good timing as we celebrate International Street Vendor's Day on 14th of November - a day calling for the recognition of the contribution street vendors make to our food systems and our lives, and to raise awareness about the significant challenges they face.
International Street Vendors' Day was started in 2012 by StreetNet International who support organising among street vendors around the world to address their common needs and challenges. This is especially important as a large percentage of street and market vendors continue to face harassment and violence in their working spaces on a daily basis.
Shaktiman Gosh from India's National Hawker Federation once said that hawkers or street vendors complete the final mile between small producers and farmers, and middle and working class consumers. But this vital role that street vendors play is often overlooked, and even criminalised in some places. They are often deprived of a decent living, have no safety nets and are usually unorganised, which makes it difficult for them to voice and win their collective demands.
The Covid-19 pandemic makes this year's international day even more important as a way to promote solidarity with street vendors and other informal traders. Despite open-air markets and street vending being the places where most people buy their food, government closures to prevent the spread of corona virus have left millions of street vendors from Manila to Mumbai jobless without any social protection.
On International Street Vendor's Day, we stand in solidarity with the collective struggle for the creation of public spaces and conditions that adequately support street vendors. They are working hard to earn a genuine living, while ensuring that that food and other farm produce reaches even the poorest consumers. Street vending is not a crime!
Find out more:
Collective Struggle
a new article series by StreetNet International which aims to share and highlight the numerous ways street vendors, hawkers, cross-border traders and other informal economy workers have come together to enact change and fight for their rights.
Top image credit: International Domestic Workers Federation (IDWF).
Across the region
CP- Tesco acquisition: Thai monopoly regulator puts private interest above public one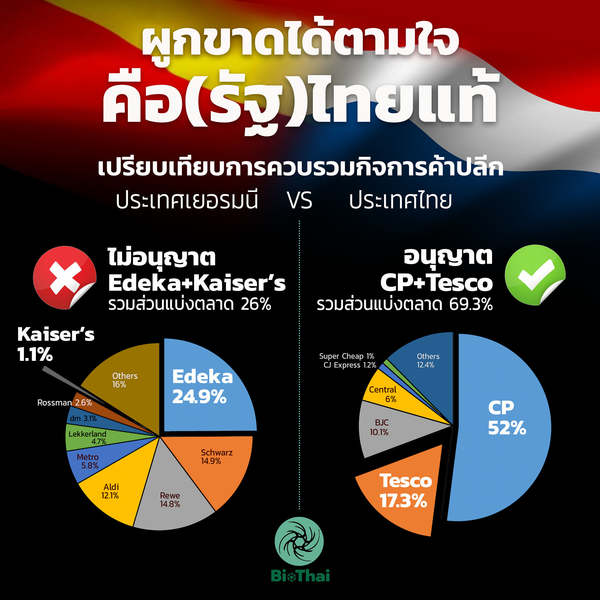 After food conglomerate Charoen Pokphand Group's acquisition of supermarket chain Tesco Lotus was approved in the first week of November, CP Group's market share in modern retail trade jumped from 52% to 69.3%.
In approving the acquisition, Thailand's Office of the Trade Competition Commission (OTCC) argued that the deal does not meet its definition of a monopoly.
The OTCC obviously has not taken into consideration the impact of its action on small business operators and consumers. The small business operators who are suppliers to the chain will be pressured into selling their products at lower prices, and the consumers will either face fewer choices or pay higher prices.
The OTCC can do much better
In 2015, Germany's retail store Kaiser's Tengelmann sold its business that held 1.1% of market-share to Edeka, resulting in an increase in the latter's market share from 24.9% to 26%. However, the Bundeskarteilamt, the German agency overseeing trade competition, was not happy with it and ordered a stop to the sale.
In a report, the Bundeskarteilamt stated that the deal would have significantly affected small-scale operators and consumers. In certain areas of Germany, such as Berlin, Munich, and some cities in North Bavaria and North Rhine-Westphalia, where Kaiser controlled between 10%-30% of the market-share, the agency argued that the acquisition would compromise competitive efficiency in the retail market.
Is there a lesson there for the Thai monopoly regulator?
This is, by the way, the second time that the OTCC has failed to exercise its authority to protect consumers. In 2012, the monopoly regulator allowed CP to take over Siam Makro, a dominant cash-and-carry wholesale chain.
What the OTCC should have done is to take a leaf out of the German anti-monopoly authorities' book and deny the CP-Tesco Lotus deal. But, now that the deal is done, it should order CP Group to sell part of its business in order to reduce its monopolistic power over Thai trade.
The OTCC can act as a protector of public interest, or be forever remembered as a public agency serving the interest of a private monopoly to the detriment of the public.
Article by BioThai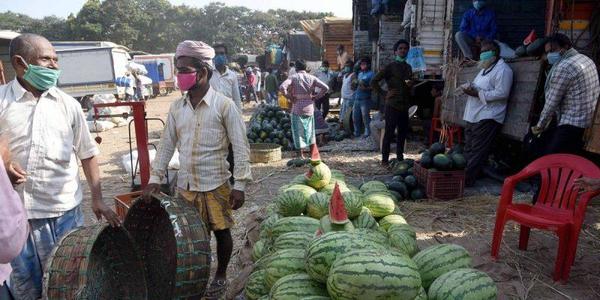 India: F
arm acts leave farmers and local markets hanging by a thread
Over the past few months, India has been witnessing farmers' protests across the country against several food and farm related legislations passed by the Indian Parliament in the third week of September this year. The three legislations include: the Farmers' Produce Trade and Commerce (Promotion and Facilitation) Act; the Farmers (Empowerment and Protection) Agreement of Price Assurance and Farm Services Act, and The Essential Commodities (Amendment) Act, These Acts were passed in the Upper House through voice vote even though the ruling coalition, the National Democratic Alliance (NDA), led by Prime Minister Modi, is in minority.
What are these Acts and why are farmers protesting against them?
1. The Farmers' Produce Trade and Commerce (Promotion and Facilitation) Act, 2020, seeks to deregulate agricultural markets; weaken the regulated public wholesale markets known as Agricultural Produce Market Committees (APMC), and move towards ending the minimum support price (MSP) for farmers. The Act intends to push India towards a situation where private players deal directly with farmers for their farm produce without any government intervention, price regulation or tax mechanism. It is feared that the Act's opening up of agriculture markets for private traders will place small and marginal farmers, who constitute around 80% of the total farming population, at the mercy of large trading companies and retailers.
This Act gives any farmer, trader or electronic trading and transaction platform the freedom to conduct inter-State or intra-State trade on farmers' produce anywhere, i.e. any area, location or place of production. In other words, any person, company or supermarket, as long as they have a permanent account number (PAN No.) for tax purposes, can buy goods from any farmer, any where. The government has named this new system "One Nation, One Market". However, there is no provision in this Act that prohibits the sale of agricultural goods in the limits of the APMC yard. Therefore the APMC yard would co-exist along with private markets, so in reality there will be "One Nation, Two Markets".
Secondly, tax or duty won't apply to sales or purchases of agricultural goods happening outside the APMC market. However, all sale and purchase of farm produce within the APMC yard attracts various taxes/fee/commission, which range from 1% to 8.5% in Punjab states. This will have a disastrous impact on the existence of APMC, as traders and farmers will prefer to trade outside the APMC where they can avoid paying taxes.
Thirdly, within the APMC yard, farm produce is generally sold at the minimum support price (MSP) or close to it. The MSP is declared twice a year, before kharif sowing (for summer crops like paddy, soyabean, cotton) and before rabi sowing (for winter crops like wheat, barley, gram), for around 23 crops in total. Out of these 23 crops, the Indian government procures only paddy, wheat and a few coarse cereals and millets through its agency, the Food Corporation of India (FCI), for its food security public distribution programme (PDS). Based on a committee report in January 2015, only 6% of farmers get the benefit of MSP and the remaining 94% are dependent on the open markets. The new law states "it will provide freedom for farmers to sell their produce through alternative marketing channels to get the fair prices through the market framework". This means that for the sale of farm produce outside APMC, the MSP will not be applicable. Without any price regulation system, private markets will flourish.
For farmers the message is clear, and this is why they are protesting against the new Act: the government wants to discontinue the MSP system in the name of reforms.
One of the key demands of protesting farmers is to make the MSP a legal right, so that no farmer gets exploited at the hands of private traders and corporate retailers.
One of the Indian States, Bihar, opted to de-regulate and abolish its APMC system in 2006. Since then, farmers rarely received a fair price for their produce due to an increased level of price volatility and generally they have had to sell their produce at much below the MSP. In Bihar, there is no government oversight of the trading of agricultural goods, there is no market information on who the traders are, who is transacting with whom and for what quantities and at what prices. Now Bihar's failed experience will be replicated across India.
Besides farmers, the new law will also affect the thousands of people who work to weigh, fill, clean, load, unload and auction farm crops in the APMC. These workers are also protesting against this legislation fearing loss of their livelihoods. The State treasuries, especially those of Punjab and Haryana, will face significant losses of tax earnings once farmers and traders shift their trade outside the APMC yards. This will bring an end of the APMC yards and, with that, the end of the price support system as well.
Even though the government says the MSP system will continue, farmers says the Indian government has hit the two targets with one arrow: by weakening APMC, the public procurement for food security programme will eventually be discontinued; and by ending procurement for its public distribution programme, the government is dodging attacks from Northern countries in the WTO who have accused India of crossing permissible limits for its food subsidies.
2. The Farmers (Empowerment and Protection) Agreement of Price Assurance and Farm Services Act, 2020 facilitates a legal framework for contract farming. Some Indian states already practice contract farming although the provisions differ from state to state. But the latest Act provides a nationwide template for farming agreements with corporations, agribusiness, and big retailers to trade agricultural produce at a mutually pre-agreed price. Protesting farmers allege that this Act would facilitate the tightening of corporate control over Indian agriculture, while leaving farmers at the mercy of local officials to sort out disputes if there are any problem between the two parties, keeping the civil court out of bounds for the farmers and companies involved. There are several cases of land acquisition for big projects where local officials act as agents of the corporation to facilitate easy land transfers from a group of farmers, sometimes from several villages, to the corporation. Who really believes that local officials will decide impartially in favour of small farmers and against the interests of the companies?
3. The Essential Commodities (Amendment) Act, 2020 legalises hoarding of agricultural commodities by removing food from the essential commodity category, except during emergency situations, such as war, famine, or natural calamity. During the Covid-19 pandemic, with big retailers making huge profits through e-commerce, this Act would provide a big opportunity for corporate retailers to hoard as much as they want of essential food items like cereals, pulses, oilseeds, edible oils, onion and potatoes. At the same time, this would also facilitate the creation of artificial shortages, which would result in food inflation.
There is already a deep crisis in India's agricultural sector. Farmers and local markets are suffering due to the increasing cost of production, unfair prices, debt, farmers' suicides and migration. The three Farm Acts will push India's agrarian crisis even further.
Article by GRAIN
From the news
Yujing Liu, South China Morning Post
Alibaba will double its effective stake in Hong Kong-listed Sun Art Retail Group by buying up most of the shares held by the French discount food retailer Auchan, owned by the billionaire Mulliez family. The deal gives the Alibaba Group a 72 per cent stake in the hypermarket chain with 484 outlets as efforts to combine offline and online stores accelerate. Alibaba's first involvement in Sun Art occurred in 2017, when it entered into a strategic partnership to integrate the retailer into its massive digital platform.
Read also Alibaba's press release
here
Wendell Steavenson, Financial Times

There's nothing like empty supermarket shelves to focus the public's attention on the issue of food supply. Demand from the food service industry (restaurants, canteens) plunged but correspondingly soared because of domestic consumers, now that everyone is eating all their meals at home.

The food industry has become more capital intensive, vertically integrated and concentrated in fewer and fewer hands. Economies of scale have led to consolidated farms, huge factories, supermarkets, but increasing fragility in the system.
Chandini Monnappa, Reuters
Indian food delivery startup Zomato has raised $160 million from U.S. hedge fund Tiger Global Management LLC and a unit of Singapore's Temasek Holdings, and plans to file for an initial public offering in the first half of 2021.
Cait Kelly, The New Daily
The strengthening duopoly of Australia biggest supermarkets, Coles and Woolworths, has become one of the greatest threats to Australia's food supply, a new report has found. Coles and Woolworths control around 60 per cent of the country's fresh food and grocery sales.
Lead author of the report and professor at the Crawford School of Public Policy, Australian National University, and former leader of the Liberal Party, John Hewson, said the duopoly was hurting farmers. "We have such a heavy concentration of suppliers who can influence everything from the farm's food processors to what is on the shelves, and that's a very big power," Professor Hewson said.
"All to the detriment of the farmers."