Saving the world?
So what does a Gates-led COVID response look like?


The ultimate solution


Conflicts of interest


Gates buys the World Health Organization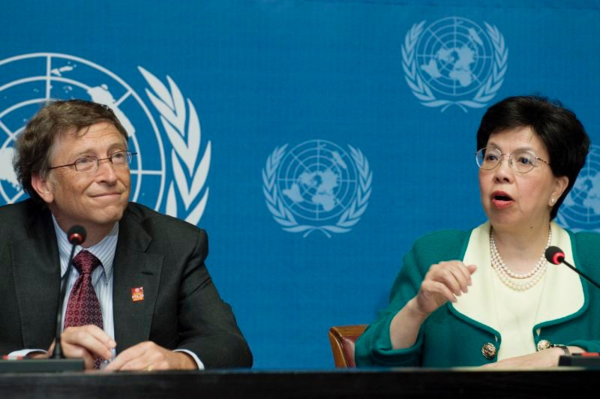 Molding the media
The Gates Foundation has also directed its wealth toward influencing news coverage of global health policy – and to perhaps suppress criticism of its more unsavory activities.
Deadly double standards
"When the U.S. was badly mired in Iraq in 2005, Joe Galloway suggested that the U.S. must simply declare victory, and then exit. Perhaps the time is right for such an honourable strategy with regard to polio eradication."
With drugs discarded by the West, an illusion of choice for African women
Guinea pigs in the Global South
Weakening the public health systems of states
University of Toronto public health professor Anne Emanuelle Birn wrote in 2005 that the foundation had a "narrowly conceived understanding of health as the product of technical interventions divorced from economic, social, and political contexts."
"The Gates Foundation has long championed private sector involvement in, and private sector profit-making from global health," Birn told The Grayzone.
One of GAVI's senior representatives even reported that Bill Gates often told him in private conversations "that he is vehemently 'against' health systems" because it is a "complete waste of money."
"Gates' reputation for being 'not very good at listening' has encouraged a non-confrontational approach within the global health arena … a former GAVI employee and HSS [health systems strengthening] proponent recounted how he and his colleagues used to 'roll down the HSS posters' when Bill Gates came to visit the GAVI headquarters in Geneva because he is known to 'hate this part' of GAVI's work."
"In Ghana … AGRA helped the government review its seed policies with the goal of identifying barriers to the private sector getting more involved. With technical and financial support from AGRA, the country's seed legislation was revised and a new pro-business seed law was passed in mid-2010. Among other things it established a register of varieties that can be marketed. In Tanzania, discussions between AGRA and government representatives facilitated a major policy change to privatise seed production. In Malawi, AGRA supported the government in revising its maize pricing and trade policies."
Operation Warp Speed immunizes Big Pharma from lawsuits
A centralized stockpile to "make WHO dependent on the goodwill of Big Pharma"
History repeats itself
---