Supermarket watch bulletin #17, February 2020


Editorial
Update from Beijing Farmers' Market in times of pandemic
(Notes: GRAIN talked to Chang Tianle, Beijing Farmers' Market organiser and editor of Foodthink about the situation of small farmers and local markets in China in times of COVID-19 and the misplaced blame on wet markets for starting this pandemic. Here is Tianle's commentary.)
For some years now, prior to the COVID-19 outbreak, many Chinese cities had begun banning live animal trading in wet markets, alleging the threats of bird flu and other diseases. A change that was considered as a loss of culture by many people.
We believe that further bans of these wet markets will marginalize small producers even more and pave the way for industrial agriculture. This, despite the fact that in China and other parts where COVID-19 has hit and disrupted food supply chains, we have observed stronger resilience from small producers than from their industrial counterparts. Through farmers' markets, local wet markets, Community Support Agriculture (CSA) and other more localised short food supply chains, these small-holder producers not only manage to look after themselves, but also feed their urban consumers continuously and consistently. Meanwhile, many big producers face shortages of both labour and supply – such as feed, fertilizer, pesticide and etc.
Wet markets – also known as farmers' markets - in most cases provide healthier and safer food than supermarkets. Regulating wild-animal trade should not hurt small producers.
Our farmers' market just reopened last week (first week of April) after a two-month suspension. Although it's smaller - no more than 8 producers selling at a time to keep proper social distancing - compared to normally 20-40 producers, it's nice to be back. When the market is not in operation, we use our two community grocery shops to have two pick-ups each week to help connect farmers and consumers. It works very well and keeps us rather busy. I'm happy to report that the impact of the suspensions to the farmers we work with are rather minimal. In fact, many have a surge of demand. This is why I believe in the resilience of these farmers and the alternative food networks that support them.
The outbreak of the new coronavirus, Covid-19, has been in the headlines of media outlets across the world since it was first reported in Wuhan, China in late December 2019. Since then the virus has reportedly killed over 2,000 people inside China and infected more than 75,000 people worldwide (as of February 19, 2020). On 30 January 2020, the World Health Organisation (WHO) declared corona virus to be a Public Health Emergency of International Concern.
Early reports indicated that an outdoor seafood market in the city, which also sells domesticated and wild animals, may have been where the outbreak began, since a number of the initial cases had recently visited it. Local authorities immediately closed the market down, and media outlets quickly started pointing fingers at "wet markets" and the culture of eating freshly slaughtered animals as being responsible for this and other global epidemics.
However, there is growing evidence that the Wuhan market may not have been the source of the initial outbreak in humans. A paper published in
The Lancet
by a large group of Chinese researchers examined the first 41 hospitalised patients with confirmed infections from the coronavirus and found that the earliest case "became ill on 1 December 2019 and had no reported link to the seafood market," In total, 13 of the 41 initial cases they examined had no link to the marketplace. "That's a big number, 13, with no link," says Daniel Lucey, an infectious disease specialist at Georgetown University."
1
"Judging from the whole situation, the seafood market may not be the only source or the origin of the novel coronavirus might be multi-source" according to Huang Chaolin, vice director of Wuhan Jinyintan Hospital. Huang said that there might be multiple places where the virus was first transmitted to humans.
2
Wet markets are very common and have a long history in many places in Asia, where fresh meat, fish, fresh vegetables and fruits, and other perishable goods are being sold. In these markets, hundreds and even thousands of traders mix with the farmers and fishers who bring their foods to be sold. Wet markets are an important source of fresh produce and meats at an affordable price for a majority of urban residents. Few vendors in these markets sell wild animals.
The vendors and small farmers who rely on wet markets to sell their products have to endure the consequences when authorities blame such markets for new disease outbreaks. This happened a decade ago with bird flu and swine flu when governments started shutting down wet markets. The fact however is that wet markets have existed in Asia for thousands of years without producing the kind of pandemics we see today.
What has changed is the way animals are now raised, in factory farms, and the way meat is processed and sold, in globalised chains of mass production. It is this industrial meat system that generated and propagated the unprecedented bird flu, swine flu and African swine fever pandemics of this century.
3
And it's entirely possible that this system is connected to the current coronavirus outbreak. Indeed, in 2018, another novel coronavirus, known as SADS, originated in a factory pig farm in China where it wiped out the entire herd of 24,000 piglets.
4
Laboratory tests showed that the disease had evolved from the Porcine epidemic diarrhoea virus, itself a product of factory farming, and was transmissible to humans. Luckily no transmission of SADS to humans has yet occurred but the case showed yet again how potentially pandemic viruses can evolve in the cramped conditions of factory farms.
The unfounded assertions that wet markets are responsible for the transmission of diseases from animals to humans have already caused immense economic damage to the people who work at and depend on such markets for their livelihoods and food security. This careless reporting is often intertwined with a biased view that
western supermarkets – with their white lighting, sterile atmosphere are better and safer than wet markets
. Such stereotypes can easily be used as a political weapon to consolidate the dominance of global supply chains and decimate small farmers and traders.
****
[1] Jon Cohen, "Wuhan seafood market may not be source of novel virus spreading globally", ScienceMag, 26 January 2020
https://www.sciencemag.org/news/2020/01/wuhan-seafood-market-may-not-be-source-novel-virus-spreading-globally
[2] Xinhua, "Wuhan seafood market may not be only source of novel coronavirus: expert ", 29 January 2020,
http://www.xinhuanet.com/english/2020-01/29/c_138741063.htm
[3] Viral times - The politics of emerging global animal diseases, 2008:
https://grain.org/e/614
; A food system that kills - Swine flu is meat industry's latest plague, 2009:
https://grain.org/e/189
; and forthcoming report from GRAIN on African Swine fever (March 2020).
[4] Melody Schreiber, "A Novel Virus Killed 24,000 Piglets In China. Where Did It Come From?" NPR, 4 April 2018:
https://www.npr.org/sections/goatsandsoda/2018/04/04/599179621/a-novel-virus-killed-24-000-piglets-in-china-where-did-it-come-from
; Yong Le-Yang et al., "Broad Cross-Species Infection of Cultured Cells by Bat HKU2-Related Swine Acute Diarrhea Syndrome Coronavirus and Identification of Its Replication in Murine Dendritic Cells In Vivo Highlight Its Potential for Diverse Interspecies Transmission," Journal of Virology, Nov 2019, 93 (24) e01448-19:
https://doi.org/10.1128/jvi.01448-19
____________________________________
Half a century of India hawkers' movement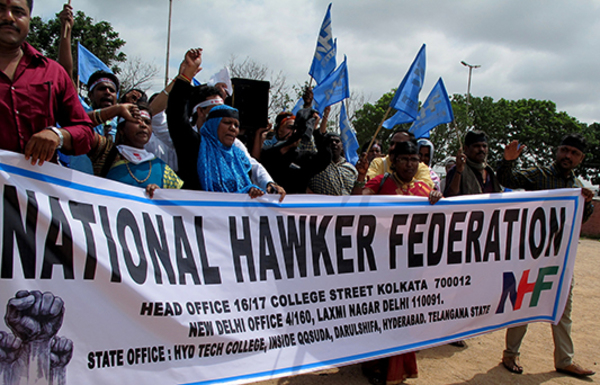 In Indian cities, street hawkers represent the largest, more organized and politically vibrant sector in the informal economy. The year 2020 has a very special significance as we celebrate the golden jubilee of the Calcutta Hawker Men's Union, the silver jubilee of the Calcutta Hawker Sangram Committee, the famous struggle against Operation Sunshine, and the completion of two eventful decades of the National Hawker Federation (NHF).Today, the NHF exists in all the states and union territories of India with over 1200 membership of unions and associations of the street vendors and hawkers including eleven Central Trade Unions. The celebration will be an occasion for all these entities to come together and set a people's vision for a collective, inclusive, equitable and a sustainable future. In addition, the celebration will offer a platform for interaction among city dwellers, hawkers, political and government functionaries, academics, journalists, city planners and policy-makers.
We believe, this is the time to write our own history, to learn from the past achievements and failures, to introspect with a critical mind, and to formulate new visions of people's movement for the fast unfolding uncertain future. Our history is a history of trials and tribulations—a narrative that will tell you how the urban poor navigated a changing world, negotiated the market and governmental imperatives, served the humanity, enlivened the mass culture of democracy, and faced betrayals, violence, death and displacement. In this process, we changed the course of history and are transformed by the currents of time.
In 1952, left unions started unionizing hawkers and played a major role in 1950s and 1960s to rehabilitate refugee hawkers in authorized hawkers' corners in different pockets of Kolkata. The real boost in unionization however came after the formation of the Calcutta Hawker Men's Union (CHMU) in June, 1970. The Union was initiated by Saktiman Ghosh to resist an on-going eviction in an intersection in central Calcutta. The Union grew since then into a large body taking care of majority of food vendors in the central city. It came into prominence during a major conflict in 1979-80 when the newly formed Left Front Government undertook a massive eviction drive in Sealdah while constructing a flyover. The CHMU was able to build up the first ever federation of unions under the banner of 'Madhya Kolkata Hawker Sangram Committee'. Ultimately, the federation was able to negotiate the resettlement of hawkers under the flyover. This experience proved to be a landmark in the histories of the people's movement in India. The successful negotiation enabled the hawkers to understand the power of a coordinated movement under a democratic and federal organizational structure.

Another major turning point was 'Operation Sunshine', which was carried out between the winters of 1996 and 1997 to make Kolkata investment friendly by evicting hawkers. Around 21 major streets of Kolkata were chosen for the operation. It was in this context that on 9 August, 1996 more than 36 unions of hawkers came together within a unique federal structure of the Hawker Sangram Committee (HSC). The HSC led an epic struggle against Operation Sunshine with the support of the larger public. Along with sensational protest rallies—using innovative means, such as carrying 18 coffins, to remember the mass suicide of hawkers that followed Operation Sunshine. By June 1997, the hawkers started returning to their locations, and the Hawker Sangram Committee played a major role in redistributing footpath space among hawkers after Operation Sunshine ended. It renamed Operation Sunshine as 'Operation Sunset'.
The Hawker Sangram Committee maintains links with many contemporary movements in India, like the National Alliance of People's Movements. It was the key organization of the National Movement for Retail Democracy, which spearheaded massive protests against corporate retailing in Indian cities. It soon became pivotal organization of the National Hawker Federation.
Ever since its formation in 2000, the NHF played a key role in scaling up the hawkers' cause to national level and mobilized public opinion in favour of a national policy on street vendors, which, after much street level struggles, negotiations and legal activism by the NHF, transformed into the Street Vendors (Protection of Livelihood and Regulation of Street Vending) Act 2014. The emergence of the NHF in the late 1990s and the early 2000s also signaled an aggregation of anti-eviction movements in different cities within a frame of comparative interrogation of diverse local laws, movements, and the condition of the street vendors in different Indian cities. The NHF was quick to devise a technique of policy interrogation by using one city context to ask questions of another, with occasional reference to the condition of street vendors in other places around the world from New York to Bangkok, from Mexico City to Durban.
The hawkers are organizing a five-day programme to celebrate the Golden Jubilee of the movement in Indian from 26 February to 1 March, 2020 at the historic Subodh Mullick Square in Kolkata. The programme will start with a rally of women street hawkers followed by seminars, planning meetings, a central rally, and a set of cultural programmes of the historical moments on the hawkers' movement in India.
Behind this event lays a twofold aspiration to create a platform where different geographies of knowledge on urban informality can interact horizontally, and, on the other hand, to develop a toolkit for understanding urban policy and planning through the parameters of what we call a 'trans-city interrogation'. In other words, to use one city's context to ask questions of another, given the great diversity of urban economies, governance structures, and histories of street hawking across different Indian cities. Thus, pushing the National Hawker Federation forward on new and up to date configurations of urban and regional knowledge.
______________________________
Tesco sells out its Southeast Asia operation
UK-owned multinational groceries and retailer company, Tesco announced the plan to sell out their Southeast Asia operation and Thai retail conglomerates are eyeing to buy Tesco assets. Tesco ranks in the top ten of global retail companies. In Southeast Asia a majority of their stores are located in Malaysia and Thailand. Kingkorn Narintarakul from Thai-based NGO Biothai throws some light on what this sell out would mean for the already very concentrated retail industry of Thailand.
1. How significant is Tesco's presence in Thai retail industry?
Tesco is classified as a hypermarket. Tesco holds a 70% share of the hypermarket sector. There are only two other main players in this sector, they are Big C and Tops Superstore. When looking at the total modern grocery market in Thailand's retail sector, Tesco comes second with a 17% share. Whichever group purchases Tesco, it will instantly become a major market player.
| | | |
| --- | --- | --- |
| | Total Modern Grocery | Market share |
| | Million baht | % Market share |
| Total Value | 994,000 | 100% |
| CP Group | 521,000 | 53.0% |
| Tesco Lotus | 171,000 | 17.0% |
| BJC | 101,000 | 10.0% |
| Central Food Retail | 55,000 | 5.5% |
| Others | 146,000 | 14.5% |
Source: Euro Monitor 2018
2. It's been reported that the CP Group is among the strongest contenders weighing bids for Tesco's Southeast Asian business, what would that mean for the CP retail industry? Some sources also say that Tesco's successful bidder could face regulatory problems from Thailand's anti-competition body, why so? Would CP go ahead with its plan if it faced such a regulatory issue?

Thailand's Office of Trade Competition Commission has said that before any serious bid to purchase Tesco Lotus is put on the table, permission must first be sought from the Commission guaranteeing that the merger doesn't bring about a monopoly or market dominance, based on the following three criteria:
Market dominance is having a market share that exceeds 50%, with sales from 1,000 million baht or over, or is one of the top three players in the marketplace, with a share of over 75 %;
An analysis of impacts from such a merging of businesses, must include an assessment of the impacts on commercial competition, both on suppliers and consumers;
Consideration would be given to whether and how the merger would affect the overall structure of the market.
We did not see these rules to protect commercial competition put into force when CP All bought Makro which led CP to obtain over 50% of the total modern grocery sector, with a market value of over 500,000 million baht.
But CP already holds a very high market share. With its leading convenience stores, 7 -11 shops, and its cash and carry operation (Makro), various analysts report that CP sees this acquisition as too expensive. Apart from the fact that not much growth is expected in the hypermarket sector - the major battlefield for competition is in the convenience store sector - there is also the problem of the trade competition law. So I don't think that CP will get seriously involved.
3. In your opinion how will this acquisition affect fresh markets in Thailand?
If CP is a successful bidder, then CP will increase its share of the overall Modern Grocery Market from 53% to 70%. Just in the Convenience Stores market alone, CP's share will increase from 76% to 86%. Alternatively, if BJC were to merge its Big C stores with Tesco Lotus, then its share of the modern grocery market would increase to 27%, while its share of the Hypermarket sector would increase to 99%, or near total market dominance. Were the Central retail group to acquire Tesco Lotus stores, this would have the effect of increasing its share of the Supermarket sector from 20% to 32%, and its share of the overall modern grocery market would increase from 5.5% to 23%.
| | |
| --- | --- |
| Various scenarios of Tesco acquisition | Impacts on the structure of the modern grocery market |
| If CP were the successful bidder | CP's modern grocery market share would increase from 53% to 70% |
| If BJC, or Big C, were the successful bidder | Big C's modern grocery market share would increase from 10% to 27% |
| If Central were the successful bidder | Central's modern grocery market share would increase from 5.5% to 23% |
If the two main players in the overall modern grocery market, CP or Big C, acquired Tesco, it would have a greater impact on the structure of the market than if Tesco was acquired by the Central group. CP would have almost total market dominance with a prospective total market share of 70%, and from having a great deal of power already would become a giant buyer with power over suppliers.
In the convenience store sector for the scenario mentioned above, 7-11 and Tesco Lotus Express would finally end their fierce competition. Analysts point out that this would have an impact on consumers where business owners can influence prices of products currently sold at Tesco stores to the same level as in the 7-11 stores. And, it's not hard to imagine that consumers, who increasingly cannot avoid bumping into 7-11 stores, will end up surrounded by even less choice of convenience stores. Big C, which is the second top player in the Hypermarket sector, will hold a 99% share of hypermarket shares. These hypermarket brands, Big C and Tesco Lotus, have been replacing fresh markets for low to middle income groups. If such business merger happens where only one company is left operating in this sector, it will gain greater control over the economic life of these income groups.
___________________________________