Supermarketwatch Asia: #15, August 2019
Editorial
This bulletin evolved from a report GRAIN released in 2014 on the food distribution situation in Asia. We were concerned that corporate supermarkets were expanding faster in Asia than anywhere else in the world. Although traditional markets and street vendors are still very visible and important to the region's food supply, the entry and aggressive expansion of multinational food corporations, beverage companies and supermarket chains over the past decade has had major impacts on Asia's farmers, food workers, traders, and consumers.
This expansion is facilitated by a growing number of free trade and investment agreements, which allows these companies to develop their global procurement systems. The opening of 100% foreign direct investment in retail coupled with lower tariffs for agriculture products in many Asian countries and tax loopholes allow retail chains to undercut local production with foods sourced from the cheapest or most heavily subsidised areas. This puts pressure on local producers and increases monoculture production in specific areas, like the banana and pineapple plantations in the Philippines, the oil palm plantations in Indonesia, the coffee and tea plantations in Vietnam or the industrial seafood and poultry operations in Thailand.
In this issue, we ask Dharmendra Kumar from India's hawkers' joint action committee and Kingkorn Narintarakul from the Thai-based NGO, BioThai, who are both tirelessly working to accompany small producers, vendors and fresh markets, their opinions on the current issues with food distribution, particularly in their own countries. What are the new challenges or opportunities for the small producers like farmers, fishers, food artisans and small vendors in the face of the push to expand corporate retail.
Dharmendra Kumar – Hawkers Joint Action Committee, India
The retail sector in India has been at a crossroads for many years. But recent developments provide a clear direction of the trajectory of retail. The debate between unorganised versus organised retail has shifted to offline versus online retail. All these decades old debates between the unorganised vs organised market seem to be settling down as the emergence of 'Omni-channel retail'1 has taken the debate to a new perspective. The various forms of retail are merging and emerging as one 'New Retail', as Jack Ma, the founder of Alibaba says.
The US giant retailers have pushed these changes along. In 2007 the world's largest brick and mortar retailer, US-owned WalMart, found a way to foray into the Indian retail sector by partnering with Bharti group to build a back end distribution network in the name of "cash & carry". But back in the US, WalMart was developing an online presence. In August 2016 Walmart launched its online operations by forging a US$3.3 billion deal to acquire a startup company Jet.com, and later partnered with Google for voice shopping using Google Home to compete with the growing clout of its rival Amazon, the king of online shopping.
The battle between these two US based retailers is now being fought on Indian turf after they failed to expand their reach to China due to Chinese policy to protect and promote domestic industry. To compete with their rival, Amazon, in May 2018 Walmart bought a 77% stake in India's largest online retail platform Flipkart for $16 billion. Amazon is second to Flipkart in India and is fast catching up. These two US companies are presently in control of almost two thirds of India's e-retail sector. By September 2018, Amazon acquired Aditya Birla's retail chain More, then the largest Indian chain of supermarkets. Not surprisingly, the latest study of the Euromonitor ranked Walmart as India's top retail company followed by none other than its rival Amazon. Other domestic e-retailers in India are following this omni-channel strategy as well.
At policy level, decisions were made to facilitate the process. Not only 100% FDI was allowed in single brand retail through an automatic route but the attached conditions were also relaxed for foreign investors.
This new omni-channel retail, with added power of digital intelligence, has only deepened people's concerns. The concern about the impact of corporate retail on livelihoods has become an issue of economic and digital sovereignty. The margins of micro, small and medium enterprise (MSME) and producers along the supply chain are getting squeezed. At the same time, a lot needs to be done to ensure that actors in the food distribution system, especially small producers, manufacturers, workers and traders, can fairly gain their livelihoods in the face of this more concentrated supply chain.
Kingkorn Narintarakul – BioThai, Thailand
In Thailand the trends shows that brick and mortar retailers are still very visible, and that they continue to steadily rake profits out of the hands of small vendors. For example, ready-to-eat foods are increasingly being sold in convenience stores. In the past, ready-to-eat foods like curries, chili pastes, deep fried foods and others were mainly sold by street vendors in every community, for consumption as is. Now the market for processed frozen or chilled foods provided by modern trade stores is growing and is increasingly part of the diet, particularly among urban consumers.
Meanwhile, online food delivery businesses are also growing, reaching out to more consumers, facilitating access to food anywhere at any time. The larger chain restaurants dominate the online food delivery market, while small independent restaurants tend not to be connected, and street hawkers are not able to reach these markets at all.
These few years, supermarkets are also increasingly making claims about the safety of their food. In order to tap into more health and environmentally conscious customers, the space on shelves for organic or "safe" food is expanding. In Thailand, their claims are not reliable; annual laboratory analyses carried out by local NGOs like Thai PAN still detect pesticide residues on a large proportion of fruits and vegetables, even for produce that has a food safety guarantee stamp.
Supermarkets are also making more claims about sourcing their produce directly from the farmers. Such claims often do not cover whether their dealings with farmers are fair. Are they working with farmers in a way that ensures farming households can make a decent living and manage their farms in an environmentally responsible way? That is still an unanswered question.
Across the region
People's milk deliverers of India: their role and challenges (Interview with Kannaiyan Subramaniam, general secretary of South Indian Coordination Committee of Farmers' Movements (SICCFM)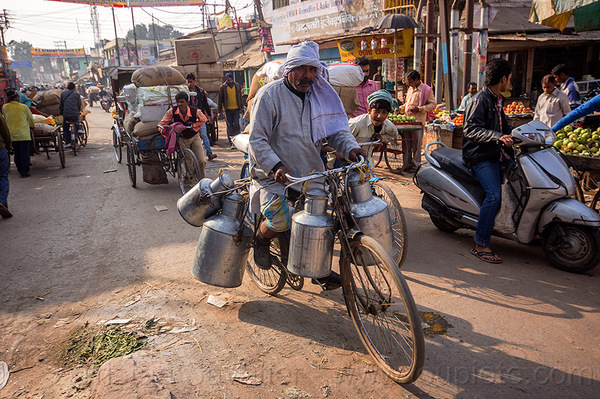 A doodhwala or doodhwali2 is a very distinct and important actor in the Indian dairy economy. They are the people who connect dairy farmers, cooperatives and consumers, easily noticeable as they pass by carrying the milk cans in their bicycle or motorbike, delivering fresh milk from farmers to the consumers' doorstep or to the many dairy cooperatives operating across India. Milk is the lifeblood for much of the Indian countryside; it is the number one farm product in value. Moreover, beyond farming, dairy is the source of livelihood for millions of more people in India who work as milk delivery persons from the farmers to consumers or who process it into other dairy products for sale. These small-scale operators, often referred to as the 'unorganised sector', handle over 80% of India's milk supply and bring nearly twice as much milk to market as the private sector and cooperatives combined.3
In an interview with GRAIN, Kannaiyan Subramaniam, general secretary of South Indian Coordination Committee of Farmers' Movements (SICCFM), talks about the role of India's milk delivery people and the challenges they are facing with the rise of the private dairy industry and the new online marketing:
Kannaiyan Subramaniam (KS): Every early morning, a doodhwala came to my grandmother's house to take the buffalo milk then processed it into curd and buttermilk and sold it directly to the neighbors alongside the fresh millk. As I grew up I still remember helping to deliver the milk from my mother's buffalo to the cooperative myself. That helped pay for my education.
GRAIN: Who are the milk delivery people and what is their role in India's dairy economy?
KS: We need to start from history. In the past milk wasn't produced and consumed like today; there was a lot of milk adulteration happening too. Then a 3-tiers cooperative system was created from farmers to district level cooperatives and state level cooperatives, and this then became a government plan program that helps increase dairy production and consumption in India until what we know today. The quality of the milk was getting better in the dairy supply chain, and to help connect between the tiers were these milk delivery people. They go to the farmer's place, get the milk from the farmers and directly market it to the consumers or take it to the district level cooperatives or do simple processing turning the milk into curd, butter milk or ghee. The milk delivery people sustain the relation and help build trust between the farmers and consumers because usually each household have their regular delivery. They are present both in the village as well as in the urban areas. A large amount of milk consumption also happens in the village where people prefer fresh milk.
GRAIN: How's the situation today?
KS: This people's milk system is under threat right now, by the increasing presence of private dairy collection and the new type of marketing through online marketing. The threats come from the top level since India now allows 100% foreign direct investment (FDI) in the dairy sector. There are a lot of private dairy companies operating in India including setting up their own collection centres the same way as the government cooperative system. There is also a new generation of milk producers who come from an IT background who promote their product as organic and more hygienic and sell the milk with a premium price. These companies often call the people's milk unhygienic; and you know this is always a critical issue in the dairy sector. It has affected many small and medium dairy producers including the delivery people.
GRAIN: What's needed to ensure that milk delivery people can still work?
KS: There should be a public policy to protect milk delivery people in the neighbourhood. India is able to produce and consume milk locally with the support of these people. There are many policies for the dairy sector, but as far as I know there is still no policy in place to support them. They need financial and technical support to help them store and process the milk better to avoid adulteration. A stringent monitoring is needed to ensure there are no fake dairy products or fake milk delivery people, because there is a big scam happening in India due to competition that gives a bad name to the people's milk delivery. At the same time there has been an increase of demand for desi milk from consumers, which is milk coming from desi cows, local Indian cows, which mainly graze freely in the forest and their milk is commonly sold through the people's milk system. It is important to ensure that the consumers increasing interest on desi milk is not captured again by private dairy industry and online marketing that leave people's milk with nothing.
For further contact:
Kannaiyan Subramaniam – SICCFM, e-mail: [email protected]
Further reading:
1
Omni-channel retail refers as a cross-channel marketing or distribution strategy.
2
'Doodhwala' or 'doodhwali' is commonly translated as 'milkmen' since according to statistic 90% of people working as milk delivery persons are men, but GRAIN refers to them as 'milk delivery people' because there are also women who partake in this job. The term has been used as a brand for one of India's leading online milk delivery and online grocery delivery service,
doodhwala.com
.