In March 2019, a meeting dedicated to "digital justice" co-organised by Just Net Coalition, Our World is Not For Sale (OWINFS) and Focus on the Global South was held in Bangkok, Thailand. GRAIN participated with around sixty activists, researchers and academics from around the world. The meeting aimed to start a cross-sectoral movement dialogue on the digital justice agenda, to see areas where digital activists could work together and support ongoing work on social issues, in various sectors including agriculture and the food supply chain.
Digitalisation of agriculture and food distribution is a fast growing industry that needs to be better understood – both in its positive and negative aspects. From IBM to Amazon, digital giants are increasingly investing in agriculture and the food industry, and they are quickly reaping profits. Governments are struggling to figure out the best way to regulate or not regulate it.
These agritech and e-commerce companies also bring with them fast-changing technology to ensure that they'll be on top of the competition. Take the example of Alibaba Cloud, the technological arm of Alibaba Groups. Faced with concerns around food safety and health hazards in online food distribution, Alibaba Cloud is developing artificial intelligence in search for food safety solutions. IBM Food Trust – a food system blockchain – is exploring ways to improve food traceability to help uncover food fraud along the supply chain. But with trade agreements designed to back up this growing industry, the question remains on how to ensure that small food producers, informal traders and local markets are not swept away as a collateral damage of the hyper-competition between e-commerce, retail trade and agritech.
When it comes to food distribution, 30 global supermarket chains already control a third of the global retail food market, taking a huge share of the market of the food that the people around the world eat. Combine that with e-commerce or grocery e-retail and the corporate control is even more concentrated. There are only a handful of companies who control regional and even global supply chains, with WalMart, Alibaba and Amazon at the top of the chain (see
Top e-commerce companies move into retail
). So where's the space for small farmers and traders?
This of course brings new challenges to the small farmers and traders, especially when their "competitors" are invisible and able to deliver produces from anywhere around the world to the doorstep of the consumers. Thus, it calls for new collaboration between farmers, vendors, consumers, with digital activists and technology experts, to see what's best to do with these challenges. At the same time, the global evolution towards digitalisation is unavoidable and this poses another question. In what ways could these digital developments potentially turn useful or benefit small farmers, street vendors and informal traders?
In this edition of Supermarket watch Asia, articles from IT for Change reflect on how the existing dominant digital platform will not work for women in the global South whose sources of livelihood are wholly dependent on the informal economy. This is the case in many Asian countries, where women are very much present and actively engaged in traditional food markets. Lastly, the bulletin includes an interview with GRAIN and INRA exploring whether the steamroller effect of supermarkets has the same impacts in the global North and South; and how this model is attempting to reinvent itself in different parts of the world.
1. Artificial Intelligence (AI): Sometimes called machine intelligence, AI are machines that mimic "cognitive" functions that humans associate with other human minds such as "learning" and "problem solving". In this context, AI refers to technology that is often used to substitute human capacity. AI often revolves around the use of algorithms. An algorithm is a set of unambiguous instructions that a mechanical computer can execute.
2. Agritech: The use of technology, mostly advanced technology, in agriculture. Agritech can be products, services or applications derived from agriculture that improve various input/output processes. Examples of agritech are quite wide - from information, communication technology to the use of drones and blockchain in agriculture.
3. Blockchain: an open, distributed ledger that can record transactions between two parties in a verifiable and permanent way. It was first conceptualised in 2008 as a core component of the cryptocurrency Bitcoin, where it serves as the public ledger for all transactions on the network.
4. Digital justice: A view to govern the Internet space to ensure protection and fulfillment of human rights and social, economic and political justice in the digital era. (Note: This is a very simple explanation of a complex, evolving concept.)
5. E-commerce: the activity of buying or selling products on online services or over the Internet with three distinct areas of e-commerce: online retailing, electric markets, and online auctions.
Why the dominant digital trade will not work for women in the global South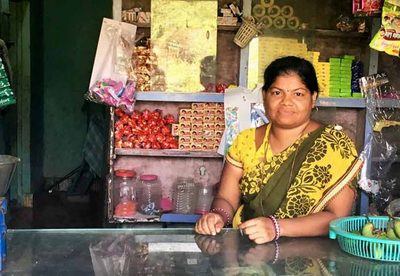 The common perception that digital technologies will help women engaged in small businesses is misguided. They are more likely to reinforce the same model of unbridled globalisation that feminists have long been critiquing for its pernicious effects on women in the global South.
In the global South, a majority of women work in the informal economy and lack employment contracts, legal rights and even a living wage. In the platform marketplace for goods and services, algorithms match customers with producers and service providers, rewarding top-ranking suppliers with heightened visibility while obscuring others. Evidence suggests that the criteria used in such algorithmic evaluation ends up unfairly excluding and marginalising women-run small businesses and women workers associated with service platforms. Research also reveals that on-demand domestic work platforms in the global South end up using discriminatory demographic criteria such as marital status, religion, caste etc. in their demand-supply matching processes.
It is only possible to take action to correct such bias through public scrutiny and audit of these algorithms and by taking measures to institute scoring criteria for affirmative action where necessary. By waiving off the right to demand disclosure of algorithms/source code in e-commerce negotiations, developing country governments are essentially giving up their right to regulate against unfair discrimination and in favour of gender equality.
In the food system, the emergence of new platform business models has led to a situation where the traditional classification between food production, manufacturing and services has become blurred. For example, farm-to-fork business models have seen the introduction of data-related services in every aspect of agricultural production: input advisories, real-time tracking of agro-climatic conditions, logistics management systems covering every aspect of the food chain. Research undertaken by IT for Change in Africa suggests that by making agricultural practices of farmers more legible to financial companies and multinational food companies, these models serve the interests of big players rather than the needs of small farmers.
Digital platform models displace traditional value chains and create a closed environment where inputs, credit, logistics and markets are centrally controlled. This could result not only in a loss of local autonomy, but also an erosion of subsistence-based livelihoods of women farmers. Developing countries need to institute policy measures in this emerging context to protect women farmers.
However, under the current trade paradigm, developing countries face several dilemmas. How should market access and national treatment obligations accepted under General Agreement on Trade in Services (GATS) be applied in platform models? What service liberalisation commitments apply? Should developing countries be penalised simply because the GATS was negotiated in times that were pre-digital? It is only logical that service liberalisation commitments be re-negotiated for new digital business models. But powerful countries have been blocking this move and trying to bring in widespread deregulation of key sectors by arguing for the application of 'technological neutrality' to GATS commitments. This must be resisted firmly, as otherwise, countries of the global south will have no wiggle room to reverse the intensification of economic concentration and the skewed distribution of profits in the rise of the platform economy.
In India, for example, the online grocery market is expected to reach 40 million USD by 2019, and increase 141 percent by 2020. Global platforms such as Amazon entered the food retail sector, with the liberalisation of the foreign direct investment (FDI) policy in 2016 allowing for 100 percent FDI, as long as local sourcing requirements were met. But the local sourcing clause could likely be revoked if India inks the regional trade agreement Regional Comprehensive Economic Partnership which will open the doors to global e-commerce giants in the food retail sector. A corporatised and consumerised food retail could be unfavorable to livelihoods of small retailers and subsistence farmers, the majority of whom are women, who may lose out or be coopted into new context in very unfair terms.
What next for governments in the global South?
Developing countries need to call out powerful governments for their double standards; pursuing their own pathways to digital industrialisation, while dismissing the claim of developing countries to preserve the domestic policy space for making good the opportunities of the digital era. Prescriptions to join the e-commerce bandwagon piloted by big digital corporations with more mentoring, access to digital infrastructure and finance for women is likely to make no dent in the systemic exclusions that prevent women's equal participation in the economy. It may at best bring some benefits for a few women, and at worst sabotage the interests of the majority of women.
Developing countries need to come together to hold firmly onto their right to regulate digital trade, rejecting the dominant policy rhetoric preventing selective liberalisation of tariffs in cross border e-commerce, mandatory disclosure/sharing of algorithms and source code, imposition of market access conditionalities and local presence requirements on transnational digital corporations, and introduction of data localisation measures. The democratic deficit in rule making about e-commerce and the red herring that women's empowerment becomes in pushing the interests of powerful corporations and rich countries are but two sides of the unjust trade coin.
Further contact:
Nandini Chami
---
Interview: Perspectives on supermarkets in the North and South
Does the steamroller effect of supermarkets have the same impacts in the Northern and Southern hemispheres of the planet? How does this model attempt to reinvent itself? What are the consequences for local farming? This is what this interview between Yuna Chiffoleau, research director at the National Institute of Agronomic Research - INRA, France, and Ange-David Baïmey, of GRAIN in Africa wanted to know.
What are the impacts of large-scale distribution on farmers in the world?
Ange-David: The development of this model, especially in Asia, in countries like China, where the expansion was very fast after the country joined the WTO, had serious consequences for local farmers. Large-scale distribution has had another impact on eating habits: very nutritious traditional foods have been abandoned by the population in favour of the junk food imported via supermarkets. This obviously leads to health problems. In Africa, street vendors have also been affected by the arrival of these supermarkets. They have also tried to organise a resistance, with the support of farmers.
Yuna: In France, supermarkets are losing the market share. They are trying to recreate an image and this includes the development of local products. But these are in fact mostly products from medium or large farms, able to provide relatively standardised products in large quantities and from conventional agriculture. This does not correspond to the expectations of consumers for local organic products from small producers. There is therefore a misunderstanding on the local aspect of production, maintained by the lack of transparency of the sector.
Ange-David: In Africa, it's more the opposite: before moving to Africa, supermarkets conducted sociological studies. They saw the emergence of a middle class that likes Western products, coming from "chic" countries. These more "luxurious" products also mix with local products sold at the same price as on the market. This strategy of conquest allows mass distribution to control not only the imported products sector but also the local products market, at the risk of wiping out all street shops and small local production.
Is this expansion of supermarkets in Africa likely to kill local agriculture for the benefit of industrial agriculture?
Ange-David: Yes, because the specifications imposed by the large retailers are much too demanding for local agriculture which has difficulty in meeting the sanitary standards, quality, quantity and price required. This requires too much investment and therefore favours industrial agriculture.
Do you think that it is possible to reform the large-scale distribution from within, such as Carrefour's "Act for Food" campaign advocates for access to organic products for all?
Yuna: Not at a first glance... In France, the farmers who suffer the most, are mainly those of average size, whose products are put in competition with those imported from other countries like Spain, for the south of France. This intermediate agriculture, which is not local, really needs an agro-ecological transition. If retail can bring this type of agriculture to evolve in a more sustainable way without putting too much pressure on it, all the better.
By defending access to seeds banned by the European Union and by joining the network "Farms of the Future", Carrefour clearly shows its desire to move towards a more sustainable agriculture. But producers aren't fooled, they know that mass retailing also requires a lot in return from them, even when they buy directly from the source, without going through central purchasing methods. They are asked for example for sales demonstrations in the store and deliver products that are ripe and tasty, but which can be kept for a long time, which is hardly compatible! Some stores are also going so far as to buy farms, in order to directly control the sector, with farmers who are salaried.
Is it sincere as an approach? Or is it mostly marketing?
Yuna: There is a form of cheating. Local agriculture aims to keep old, local varieties alive. The supermarkets will ride on this fashion of the old varieties, selling for example fake "heart of beef" tomatoes. As they cannot keep this name, they will invent a new name that comes close ... to designate hybrid industrial tomatoes, all colours, which ultimately deceives the customer.
Supermarkets are able to gain a foothold everywhere in the name of creating jobs. What do you think of this argument?
Ange-David: On the contrary, it seems that for one job created in a supermarket, we see disappear from 3 to 5 jobs elsewhere, sometimes more. It is difficult to have statistics on this type of phenomenon because we must also take into account a form of unfair competition: small businesses will pay proportionally much more taxes than large retailers and therefore participate more in the national economy than the big Western groups.
Yuna: We should not just look at the quantitative aspect of job creation, but also the quality of these jobs. We know that in hard discount stores there are many precarious jobs, difficult working conditions, occupational diseases ... Moreover, the robotization of cash registers is likely to lose a lot of jobs in the sector. It is not yet clear how cashiers can be assigned to other tasks, even if the mass market is talking about making them "quality consultants".
What do you think of the emergence of e-commerce and the arrival of stakeholders like Ali Baba in the agro-food sector?
Ange-David: There is a big risk with this model. Who will be responsible for food poisoning? And what will be the impact on local employment? The situation of the local farmers becomes more and more difficult, many commit suicide, at home as in Europe, because they see no future.
Yuna: In France, there are a lot of changes, with big stores trying to reinvent their methods, with e-commerce but also new locations in the city center. Some people really want to make things happen from the inside and we can find very ethical partnerships locally.
But I also saw a lot of cheating, opportunism, recovery... That said, we are not worried, because there are also other circuits that develop, shops producers and producers, Cooperative supermarkets, farmers' drives... They are also increasingly relying on e-commerce and, more broadly, on digital technology. We have also launched a new research program on this theme to see what will happen.
*Yuna Chiffoleau, agricultural engineer and sociologist, research director at INRA in the department "Science for action and development" Author of the book "Short food circuits, between market and social innovation", published by Editions Erès in January 2019.
*Ange-David Baïmey, sociologist based in Abidjan, works for the NGO GRAIN in Africa that is interested in supporting farmers' organizations all over the world. Coordinator of the GRAIN program in Africa.
Interview by Roland d'Hoop,
OXFAM Belgium
---