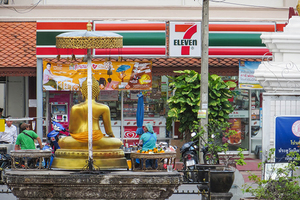 Supermarket watch Asia bulletin, Issue 11, August 2018
Editorial: Modern retail and market concentration in Thailand
In July 2018, BioThai, a Thailand-based NGO that works on biodiversity and local knowledge, shared insights and data on the increasing market concentration of modern retail in Thailand. They noted that, in 2016, over 18,000 shops were owned by around a dozen companies that operate in Thailand. The average Thai household spends 87 percent of its budget on retail items such as food and beverages, clothing, and furnishings and Thailand's modern retail sector is booming as a result.
However, the development of modern retail puts consumers and farmers at a loss. According to BioThai, 75 percent of the price of a banana sold in a modern retail outlet goes to the retailer and its suppliers, while only 25 percent goes to the farmer. Moreover, the price of a banana in Thailand is almost the same as the price of one sold in Europe, where 80 percent of the price goes to the retailers and towards import taxes.
On average, when a consumer buys fresh produce in a modern retail outlet only 14 percent of the fresh produce price actually goes to the farmers. The highest remaining share of the product cost goes to the supermarket company (30 percent), then seed and fertiliser companies (25 percent), food manufacturers (23 percent), and traders (8 percent).
And with increasing market concentration and the vertical value chains of supermarkets, the entire price paid by consumers can go to only one company who controls the entire chain. In the case of Thailand, this one company is Charoen Pokhpand (CP). CP is Thailand's largest private company and one of the world's biggest conglomerates. It has three core businesses working in telecommunications, agribusiness and food, and retail and distribution with operations and investments in over 14 countries from Thailand to Tanzania. The company exports to 40 countries across 5 continents and its products are consumed by over 3 billion people around the world daily.
Inside Thailand's food chain, CP owns and invests in almost all sectors of the food chain; from production to processing and distribution. CP controls 30 to 50 percent of corn and vegetable seeds, 40 percent of the poultry industry, 73 percent of the chilled and frozen food industry, and a staggering 93 percent of convenience stores across Thailand. Over the past few years CP has come under fire after facing a lawsuit over alleged slavery and trafficking in their prawn supply chain. However, the case was dismissed with prejudice in a United States' court in 2017.
The example of CP shows clear evidence of the growing concentration of modern retail in the food chain. This business practice has squeezed out the majority of people along the food chain - from farmers, farm workers, small traders, and consumers. It also demonstrates many reasons for the growing resistance against modern retail and why efforts to improve the situation of food distribution in many places have occurred- ranging from India to the United States as highlighted in this edition of the Supermarket watch Asia bulletin.
For further information regarding BioThai's presentation, contact: Kingkorn Narintarakul ([email protected]).
---
ACROSS THE REGION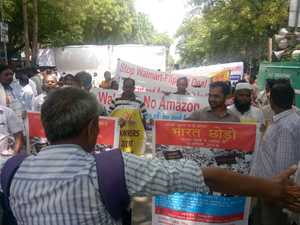 Traders, farmers, workers and citizens groups decry green-light to Walmart-Flipkart deal – Call on Quit India day for joint struggle against foreign e-commerce
The Joint Action Committee Against Foreign Retail and E-commerce greatly condemns the go-head to Walmart's takeover of Flipkart by the Competition Commission of India. Flipkart indulges in gross and widely-reported violations of current foreign direct investment (FDI) norms for e-commerce as expressed in the Press Note 3. These violations are all market distorting. The government has sat over scores of complaints given to it for such violations, and a case is also currently in the Supreme Court. Before investigating and deciding on these existing ongoing by Flipkart, billions of dollars of new FDI cannot be allowed to come in and compound these ongoing violations against India's markets, economy and citizens.
Does the law and enforcement exist only for common citizens, and not for these giant global mega-corporations who can defy it with impunity! This is the clearest proof that the government has no intention to protect the interests of Indian citizens, traders, workers, farmers and service providers, and is only interested in furthering the interests of global capital.
The Joint Action Committee Against Foreign Retail and E-commerce, which consist of key farmer, trader, workers and hawkers' associations of India, and more than 100 other organisations, gives a call for all-out protests across India, which will continue till the Walmart deal is disallowed by the government.
It is ironic that the Walmart's entry in retail in India is being passed on the eve of Quit India day! It also happens to be the day when global furniture company IKEA opens its first store in India, sourcing furniture from abroad and killing the livelihood of millions of artisans, workers and traders. This protest begun on 9 August, on the Quit India day, giving a call for Walmart and Amazon to quit India.
In Delhi, a group of street vendors organised by Hawkers Joint Action Commitee assembled and marched at Jantar Mantar chanting slogans for Walmart and Amazon to quit India! They then joined a protest by farmers and trade unions led by All India Kisan Sabha and Centre of India Trade Union. Farmers and trade union leaders spoke about the dangers of Walmart.
Addressing the joint protest of farmers, workers and hawkers, at Parliament Street in New Delhi, against the entry of Walmart, Hannan Mollah, General Secretary of All India Kisan Sabha, and a member of Joint Action Committee, and former parliamentarian, spoke about dangers of Walmart entry to all groups and the need for united action.
He also announced the program for intensified joint among all groups, coordinated by the Joint Action Committee, till our demands to turn back foreign retail and e-commerce companies, and specifically the Walmart deal, is met. A national convention will be held on the issue on 1st September, along with nation-wide protests. Other forms of actions will also be taken up.
Half a kilometre away, Bhartiya Udyog Vyapar Mandal (BUVM) held its convention, where trader leaders from 20 states gather. BUVM President Shyam Bihari Misra asked for Walmart deal to be immediately rolled back if Indian traders are to be saved.
Separately, Praveen Khandelwal, President of Confederation of All India Traders, says, " Walmart and Amazon taking over Indian retail through the e-commerce route will be the end of Indian trading and traders as we know it, as these companies will dis-intermediate the trader. Most will have to lose livelihood and a few who will remain will have to act as petty agents of these US companies". CAIT will be filing an appeal against the decision of the Competition Commission in the appellate authority as well as in the court.
Shaktimaan Ghosh, General Secretary, National Hawkers Federation, said "Hawkers fill the last mile for sale of small products, connecting small producers and farmers to middle and working-class consumers. With their micro-reach with data, Walmart and Amazon will also sweep up this link and render millions jobless and reduce consumer choice".
Biswajit Dhar, Professor at Jawahar Lal Nehru University, and global trade and development expert said: "The entry of Walmart will push farmers, MSMEs and the traders into further distress. The market power of Walmart will marginalise those engaged in these sectors and will result in wide-spread losses of livelihoods."
Shivpal Singh, National Secretary of India National Trade Union Congress described the threat to workers, "Global companies like Walmart and Amazon which begin to control the whole economy including manufacturing will informalise labour and reduce them to survival wages. Walmart is known for union busting and extremely poor labour conditions".
All India Kisan Sabha, Joint Secretary Vijoo Krishnan said, "Walmart and Amazon will make farmers fully dependent on its supply chains and agri services, which is being done to allow government to withdraw its market and extension services support to farmers. This will the death knell for farmers, already struggling with impossible odds."
In the evening, Punjab Distributors Association held a meeting in New Delhi which also strongly raised the Walmart issue. Its President N R Agarwal said, "Distributors are the worst affected and will be first to lose their business with these foreign e-commerce companies coming in".
Apart from New Delhi, protests on the Quit India day against Walmart entry were held across the country, with scores of people gathering, at Kolkata, Ranchi, Bhuvneshwar, Amritsar, Haridwar, and Bangalore.
All the mentioned organisations and leaders are members of Joint Action Committee Against Foreign Retail and E-commerce. It is a unique struggle that unites all constituencies against the foreign digital and e-commerce threat.
If this takeover is allowed to go forward, Walmart will join Amazon into a duopoly controlling India's e-commerce. Since offline and online retail is merging around data controls, they will come to dominate the whole economy, and control the fate of India's traders, farmers, workers and service providers. And with control of key Indian data will also control India's society, culture and politics.
Walmart's entry also makes sound hollow the new draft e-commerce policy that claims to aim at developing Indian domestic digital industry and provide a balanced digital dispensation to all Indian groups. There is no point is developing such road-maps when Walmart and Amazon are on course to divide the digital economy pie between them, and control the economic fate of Indian citizens, farmers, traders and workers across all aspects of the economy.
It is evident that the government has decided to take a hands-off approach to this wholesale takeover by global corporations of the Indian economy, and are hand-in-glove with them. It has lost all perspective of how to manage India's digital economy and its digital future.
Evidently, Digital India will now be run by a few US corporations.
But citizens, farmers, traders and workers of India will resist such an abject surrender, and not allow it to happen!
The protest will be intensified in the coming days, reaching out to all constituencies, as all economic actors are adversely affected by this decision.
For more information, contact co-conveners of the Joint Action Committee:
Dharmendra Kumar – +9877179084
Parminder Jeet Singh – +9845949445
---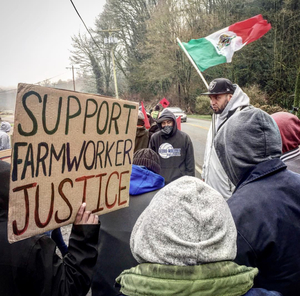 Mapping the restaurant high-value supply chain
A recent study by the Food Chain Workers Alliance, in collaboration with the Restaurant Opportunities Centers United, portrays the primary aspects and practices of the "high-road" restaurant industry in the United States (US) in relation to their supply chains. The study describes what constitutes a good food business, why it matters, and how policy can direct more companies to embrace these practices.
The food industry- composed of production (farm-workers), distribution (warehouse and logistics workers), processing (meat, poultry and food processing workers), retail (grocery), and service (restaurants, food service establishments and street vendors)- remains the largest employment sector of the US economy. It is represented by a myriad of companies that follow a spectrum of employment practices. The vast majority of these food employers take a "low-road" approach by paying workers the minimum wage required by law and even sometimes below minimum wage. As they often follow unsustainable business models, these employers frequently fail to provide paid sick leave for their employees.
Nevertheless, there are a growing number of ethical employers who perceive their workforces, communities, and the products and services they offer, as equally fundamental to their commercial success. Several of these "high-road" businesses are thriving in part because of the support they are gaining from a new generation of consumers who embrace a new type of economy that works for everyone in a healthy and sustainable manner.
Consequently, the establishment of what is considered "good food" can be measured by five critical categories: valued employees, environmental sustainability, animal welfare, nutrition, and local economies. It is now possible to identify how food producers, processors, suppliers, and retailers fit into these categories.
Read the full report here: http://foodchainworkers.org/wp-content/uploads/2018/07/Mapping-the-Restaurant-High-Value-Supply-Chain.pdf
Further contact on the report:
Joann Lo
Co-Director, Food Chain Workers Alliance
e-mail: [email protected],
phone: +1-213-761-8893.
---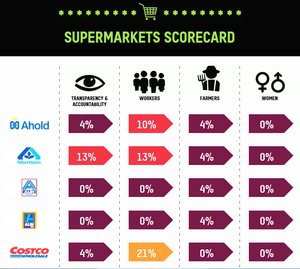 Ripe for change: Ending human suffering in supermarket supply chains
Inequality is rampant across the global economy, and the agri-food sector is no exception. At the top, big supermarkets and other corporate food giants dominate global markets; allowing them to squeeze value from vast supply chains that span the globe. Meanwhile, at the bottom, the bargaining power of small-scale farmers and workers has been steadily eroded in many of the countries from which industrial food companies source their products.
The consequences of this include widespread human suffering experienced among the women and men producing food for supermarkets around the world. Human and labour rights abuses are all too common in food supply chains: from forced labour aboard fishing vessels in Southeast Asia, to poverty wages on Indian tea plantations, to hunger faced by workers on South African grape farms. Oxfam released a new report "Ripe for change: Ending human suffering in supermarket supply chains" to expose the root causes behind the human suffering in food supply chains. They also developed a campaign to mobilise the power of people around the world to help end this suffering, which starts by focusing on the role of supermarkets.
In addition, the supermarket scorecards provided in the report assess how supermarkets treat the workers and farmers in their supply chains, what policies they have on women's rights, and how they ensure that human rights are respected. See the full scorecard data here.
---
Supermarket watch Asia is a quarterly email bulletin for social movements about developments in food retail and distribution in Asia produced by GRAIN. Click here to view the full issue and subscribe.