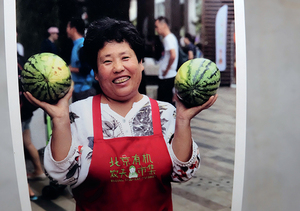 Supermarket watch Asia bulletin, Issue 10, May 2018
Editorial: Top e-commerce companies move into retail
Electronic commerce is expanding rapidly into food distribution and retail across Asia. In particular, the emergence of online food delivery services is generating significant changes to farm-to-fork food supply chains. Yet very few countries have regulations covering online food distribution, including food safety and health hazards, or even regulations covering cross-border e-commerce for food. Some of the world's largest e-commerce and retail companies are moving aggressively to take control of and expand online food retail, with major implications for local food systems, small vendors and farmers.

Below is a list of five of the biggest e-commerce companies that are active in food retail in Asia. These companies are dot-com companies that conduct a majority of their business on the Internet and offer and array of e-commerce and high-tech internet-based services.

1. Alibaba Group Holding Limited, a Chinese multinational whose core business is in e-commerce, Internet, and technology. It owns and operates a diverse array of businesses around the world. In 2015, it invested US$ 1.25 billion to take a stake in the Chinese online food delivery service platform Ele.me. In April 2018, it spent another US$ 9.5 billion to take full ownership of the platform. Alibaba plans to integrate the Ele.me platform into its New Retail strategy. The strategy is based on a US$ 12.7 billion investment that the company has already made over the past couple of years into physical retail stores, something the industry often refers to as "bricks-and-mortar retail". The company also invests in its own farm production, such as Milk New Zealand Dairy – a company of which Alibaba owns a 57% stake. The New Zealand-based company has 29 dairy farms exporting up to 9,600 litres of fresh milk to China each week.
2. Amazon.com was founded in 1994 in Seattle, United States. Its core business is in e-commerce and cloud computing. It began as an online bookstore and then diversified into video streaming and a huge array of products, from apparel to video games and even to food. Amazon is second to the Alibaba group in terms of total annual sales. In 2017, Amazon acquired the US-based food retailer Whole Foods Market for US$ 13.4 billion, which massively increased Amazon's presence as a brick-and-mortar retailer. Since acquiring Whole Foods Market, Amazon began making moves to invest in food retail in several countries, including India and Australia, where it intends to engage in stocking food products and selling them online.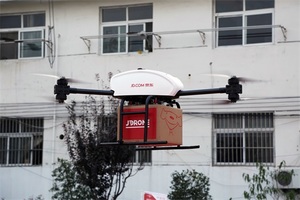 3. JD.com, also known as Jingdong, is China's second largest e-commerce company and a major competitor for Alibaba. It is the world's leading company in high tech and artificial intelligence delivery through drones, autonomous technology and robots. JD.com owns the world's largest civilian delivery drones, and has the most robust infrastructure and capacity in the world. In January 2018, JD.com opened the first of a chain of high-tech supermarkets in Beijing, called 7Fresh, targeting premium products for China's middle and higher income consumers. The move followed that of its main business competitor Alibaba into the world of physical retail. After another consolidation of the JD.com and WalMart partnership that started in 2016, the two companies now plan to combine their network of warehouses and cold storages to speed-up delivery to customers.
4. Flipkart is the number one Indian e-commerce company. Its founders worked for Amazon before creating their own company in 2007. Flipkart also started by selling books online and popularised the idea of online book sales in India. In 2015, the company launched a grocery delivery service, but this didn't work out. In 2017, Flipkart relaunched its grocery delivery service under the name "Supermart". WalMart is known to be eyeing the opportunity to acquire a majority stake in Flipkart, valued at about US$ 18 billion, as an effort to secure the Indian market from fellow US competitor, Amazon. Grocery retail in India is estimated to be over 60% of the country's total retail market.
5. Rakuten is a Japanese leading e-commerce company established in 1997. It is the largest e-commerce web site in Japan and among the world's largest by sales value. The company operates around 70 different businesses and services, from banking and credit cards to online book distribution. In January 2018, Rakuten entered a strategic partnership with the US-based retailer WalMart, which will launch a new online grocery service in Japan. This partnership is another effort by WalMart to challenge Amazon after the latter launched its "Fresh produce" service in parts of Tokyo. Fresh food delivery has been around in Japan for decades but lagged the growth compared to other areas of e-commerce.

The intertwining of grocery and online companies is also a test-bed to try out new technologies, such as unmanned stores, or shaping consumers behavior through the use of consumer data and analytics — something that is increasingly growing in retail industry as so-called shopper personalization.
---
ACROSS THE REGION
Online to offline food retailers' transition in China: what's left for farmer's markets?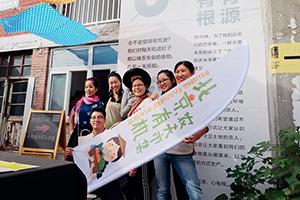 Fresh food is the next frontier for China's e-commerce giants. Between 2012 and 2016, the value of China's fresh food e-retail market grew from under US$ 580 million to almost US$ 13.2 billion, recording an 80% growth in 2016 alone. What's more, the market value for total food delivery has the potential to reach US$ 46 billion per year in 2018, according to analysis from the China International Electronic Commerce Center (CIECC).
On the positive side, the growth of online food retail has helped creating a platform that new young farmers can access to supply urban consumers, as has happened with the Beijing farmers' market. The market relies largely on Facebook and Weibo, China's Twitter equivalent, to spread when and where the market takes place. It helps to grow consumership - many people living in Beijing now rely on the farmers' market for their weekly groceries shopping. From initially just five or six organic producers located in Beijing's outskirts, the market is now served by more than a dozen farmers, some of them coming from a much more distant area. Since its founding in 2011, the farmers' market has managed to organise over 500 fairs that have encouraged consumers to buy food directly from reliable farmers.

But not everything is rosy for the future of Beijing's farmers' market. Many consumers have rapidly embraced direct connections with local farmers and purchasing of organic and fresh food. Their demands and expectations are on the rise and companies are forging ahead with investments into supply chains to meet their evolving demands. This could leave Chinese small producers and farmers' markets such as Beijing's behind. For example, China's biggest e-commerce company, Alibaba, is rolling out premium UHT milk and planning a new "fashion milk". The company's premium fresh milk arrives on the shelves of its 18 Alibaba Hema Fresh supermarkets in Shanghai just a few days after it is shipped from the company's New Zealand farms.

Furthermore, e-commerce is also encouraging retailers to have physical retail shops to step up their businesses. Contrary to predictions made a few years back, online retailers have seemingly decided that they can't get by without physical stores, especially in food retail. There's a growing awareness of the fact that online channels alone can't serve consumers adequately.

Beijing farmers' market is also experiencing these changes and challenges with the online to offline integration of food retail. At the moment, the farmers' market has to compete directly with e-commerce companies that are going into the food retailers business. Jingdong opened one of its retail shops just ten steps away from a Beijing farmers' market location, while an Alibaba grocery store is opening up just two kilometres away. Alibaba's Hema supermarkets is planning to add 30 stores in Beijing by the end of this year, rapidly expanding its presence in the capital from the current five stores. In the interview with China Today, Chen Tianle, co-founder of Beijing farmers' market said that being organic was never about getting organic certifications, and very expensive prices, but about building sustainable agriculture and reducing the negative impact on our environment, as well as cementing mutual trust between the consumers and producers. This mutual trust and solidarity between consumers and small producers in farmers' market is almost inexistent in large-scale supermarket chains, whether online or offline.
Article by GRAIN,
Partially based on an interview with Chen Tianle, Beijing Farmers' Market co-founder, in April 2018.
---
Formation of India's Hawkers Joint Action Committee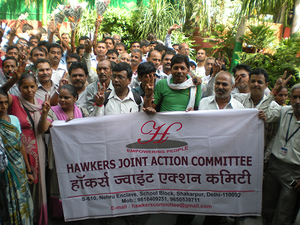 In India, 53 associations and collectives of street vendors, commonly known as hawkers, have joined hands and formed the Hawkers Joint Action Committee (HJAC). They stepped up their fight to protect the livelihood of hawkers and continue playing the pivotal role of connecting small farmers, micro, small and medium enterprises with urban communities - primarily urban poor and low and moderate income working class.
At present, India's street vendors are at crossroads. A debate on street vendors' role in informal economy and urban life is heating up. In a ruling, the highest court of India said that "If properly regulated according to the exigency of the circumstances, the small traders on the sidewalks can considerably add to the comfort and convenience of the general public, by making available ordinary articles of everyday use for a comparatively lesser price. The right to carry on trade or business mentioned in Article 19(1)(g) of the Indian Constitution, on street pavements, if properly regulated cannot be denied on the ground that the streets are meant exclusively for passing or re-passing and no other use." Further enactment of the street vendors act (regulation of street vending and protection of the livelihood) saw the Indian parliament empowering hawkers by legally instituting town-level vending committees (TVCs) with a 40% representation of democratically-elected street vendors. The TVCs are empowered to protect and regulate all aspects of street vending by formalising local schemes to implement the act. The TVCs have to survey all existing street vendors, register them and issue an identity card. The TVC also has the prerogative of demarcating vending and non-vending zones.
But the irony is that having an act and getting it implemented on the ground are completely two different things, particularly when we have conflicting interests among stakeholders. Along with street vendors, TVCs will include representatives of the police, the private sector, city planners, trade associations, resident welfare associations and NGOs. Many of these non-street vendors representatives consider street vendors a nuisance for traffic and see them as encroachers of public land. To make the act work in favour of street vendors and effectively use TVCs to protect their livelihood, the Hawkers Joint Action Committee is focusing on building the leadership capacities of street vendors.
While street vendors struggle to get the act to work for them, the bureaucracy is only using the act to evict them and arbitrarily declare non-vending zones. Supermarkets are aggressively joining the cut-throat competition, standing as the street vendors' new rivals. The neo-liberal policies to deregulate retail services and promote supermarkets are only adding fuel to this. Hawkers' losing customers to their new competitors puts their livelihood at risk, even when their activity is formalised and regulated. India has opened almost all sectors related to retail trade services for supermarkets and related industries. Most of the retail multinational corporations and allied sectors invest in India.
Very recently, WalMart announced it would buy a 77% stake of Flipkart as part of a US$ 16 billion deal. The difference between online and offline is no longer relevant as Jack Ma, co-founder of Alibaba terms it as 'New Retail'. E-supermarkets with digital powers are more dangerous. Artificial intelligence created using data will hand over commanding position to supermarkets to influence, drive, shape and finally monopolise retail trade. The 'New Retail', would establish a monopoly position by controlling all ends of the supply chain. The leadership of the Hawkers Joint Action Committee is aligning with all actors concerned as part of the strategy to fight against rising monopolies in retail.
The current era of globalisation has set the stage for free trade. The rationale behind promoting free trade has been that it would help in global development by creating more employment opportunities. However, the contrary has happened in developing countries like India. Today, India is the fastest growing economy in the world. The growth is primarily driven by service sector, as agriculture and manufacturing growth has remained stagnant for decades.
Around two thirds of India's billion plus population still depend on agriculture. Stagnancy in agriculture and de-factorisation are forcing farm workers and factory workers to look for alternative sources of livelihood. With low literacy rates, lack of skills and absence of capital, the majority of rural migrants and displaced factory workers find low paying informal work or self-employment their only refuge. In desperation, many turn up to street vending because of relatively low barriers and capital requirement. According to the National Policy on Urban Street Vendors in 2009, in most of the urban cities, street vendors represent only 2% of the total population. Skill-based techniques of free trade markets are excluding the larger working class. Street vending or hawking reflects the compromise the destitute people have to make to be able to survive. With almost no social security, street vending is the only protection that they have.
The Hawkers Joint Action Committee is advocating for not only securing space with dignity and rein in supermarkets. It also demands access to finance, coverage under scheme targeting, abolishment of poverty, safe work places, facilities for drinking water, washrooms, storage and waste disposal. The town planning is also being pushed to make more investments related to street vendors in public infrastructure including broader footpaths, street-lights and natural markets. The HJAC demands also include setting up a support system wherein a minimum social floor should be provided ensuring hawkers' social security. This should include health insurance, accident insurance, pension, etc. In addition, trade and labour policies should be better coordinated.
Article by:
Dharmendra Kumar
FDI Watch and President of the Hawkers Joint Action Committee
e-mail: [email protected]
---
Supermarket watch Asia is a quarterly email bulletin for social movements about developments in food retail and distribution in Asia produced by GRAIN. Click here to view the full issue and subscribe.