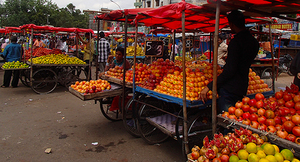 Supermarket watch Asia bulletin, issue 7, August 2017
Editorial: Behind Amazon's acquisition over Whole Foods: the next phase of food distribution
In June 2017, Amazon, the world's third largest e-commerce company, announced its acquisition over Whole Foods Market for US$ 13.7 billion. Amazon's move seems to follow the footsteps of Alibaba, the world's largest e-commerce company that invested US$ 1.25 billion in buying the Chinese online food delivery service Ele.me in late 2015.
The growing encroachment of e-commerce and food distribution is happening everywhere as startup companies have competed to get their way in this sector over the past few years. What's behind these investments? Why do e-commerces invest so much money in food distribution? Far from being mere corporate acquisitions, these investments mark the beginning of the end of retail as we've known it.
Compared to other e-commerce purchases, groceries are habitual and frequent. People shop groceries every week. On average, people in the United States roam for 53 hours a year in supermarket aisles. More importantly, as illustrated in several analyses, e-commerces mean greater access to consumers' data and purchasing habits. Data help them to develop vertical integration for their own private brand products which, in the long run, will affect how and where these companies source their produce in order to get the lowest price.
Furthermore, e-commerce companies like Amazon and Alibaba see automation as a key strategic advantage in their overall grocery strategy, entailing the risk of a major loss of jobs. Alibaba has begun testing drone-based deliveries to hundreds of customers in three of China's major cities - Beijing, Shanghai and Guangzhou. Meanwhile, after its acquisition of Whole Food Markets, Amazon plans to add robot workers in Whole Foods Market warehouses to reduce costs. Amazon already uses robots in other business sectors. A new report highlights how increasing automation risks leaving large numbers out of employment, especially in developing countries.
In mid-July 2017, one month after acquiring Whole Foods Market, the Indian government approved Amazon's proposal for a US$ 500 million investment in retailing of food products in India. This approval enables Amazon to open a fully-owned subsidiary in India to carry out the business of stocking food products and selling them online. For a country like India where 90% of the economy still relies on agriculture and small informal food distribution, online food distribution adds another layer of problems for millions of people. This also opens a new debate amongst consumers in respect to the growing middle-income consumers in Asia's major cities who seek convenience, while rural low-income producers seek to protect their livelihood.
---
ACROSS THE REGION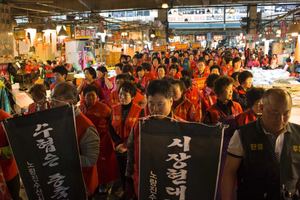 More precious than money: the Noryangjin fisheries market vendors struggle
Redevelopment in Korea follows a common pattern. Developers clear out the poor, and then redevelop the area to turn over great profits. In order to drive out the residents and tenants, they use public relations to trick the public and the tenants, then deploy legal and bureaucratic tactics. When these are exhausted, they employ hired "security" to harass and drive out those residents and tenants holding out. The Noryangjin Fisheries Market Vendors struggle (Noryangjin struggle) is also playing out that way.
The Noryangjin Fisheries Market (Noryangjin market) was established 90 years ago. The City of Seoul was both the operator and in charge of the facilities. Although the National Federation of Fisheries Cooperatives (NFFC) acquired it 15 years ago, operation and maintenance was supposed to stay with the City of Seoul. Yet, it's been the NFFC which has operated and maintained the market. NFFC is a government-initiated cooperative of large-scale fishing Korean companies who employ financial and marketing instruments to influence the regulation of both domestic and export fish prices.
Noryangjin market was originally established to stabilize seafood prices and provide affordable fish and seafood to the public. Yet, during this time, the NFFC abused, extorted and mistreated the vendors. Vendors would be forced to give bonuses to the NFFC employees during major holidays and to cater free food during the latter's meetings and reunions. Meanwhile, NFFC made 6-7 billion won (5-6 million US dollars) in profits annually. Money taken out of the pockets of consumers.
The new "modern" building and relocation currently underway by the NFFC has been a pretext to reduce the market area to a third and utilize the portion closest to a subway station for a casino and hotel. Recently, it's become clear that this project was connected to the ever-expanding abuse of power and undue influence scandal that impeached the previous President Park Geun-hye. Associates of Choi Soon-sil, who played a central role in the scandal, are directly connected to the hotel and casino plans. Instead of providing the 1.54 trillion won funds to the City of Seoul for the construction of the modern building, the funds were directed towards the NFFC. There are suspicions that Choi Soon-sil's influence over President Park resulted in the diversion of the funds.
Given its main concern for clearing out the area, it's no surprise that the NFFC built the "modern" building without input and/or oversight from the vendors, even blocking access to the construction site. When it was finished, in March 2016, the building was much more of a supermarket than a facility appropriate for a seafood wholesale market. When the vendors were pressured to relocate, the anger and frustration accumulated over 15 years exploded into a struggle. The NFFC hadn't imagined that the merchants they had abused and exploited would gather and fight against the relocation.
That month, the NFFC shut off the electricity and gas for 20 of the restaurants, forcing them to move to the new building. A group of vendors was also forced to leave when the NFFC cut off their electricity. Then, to pressure the remaining vendors, the NACF employed 400 security guards in the middle of the night to block the loading docks. The vendors fought and were able to remove the vehicles. Then, the NFFC brought 200 security guards to block all of the entrances to the market. The vendors fought them back but many were also arrested.
Noryangjin Fisheries Market is a 90-year-old wholesale seafood market. It is the largest in East Asia and stands alongside Spain's 100-year-old Boqueria Market and England's Borough Market as one of the three largest and oldest food markets in the world. During its 90-year history, unique culture and tradition have been upheld and passed on. Thus, Noryangjin market is not simply a fish market. It is imbued with the emotions and memories of Koreans also becoming a tourist attraction. Movies have been filmed turning it into a hotspot for those enthralled by Hallyu (the Korean pop culture wave).
If a modernized seafood supermarket stood in its place, it would be a great loss. The traditional market can be preserved alongside the modernization efforts applied towards retrofitting and improving the existing market place. Until then, the vendors guard the market and hold rallies every Thursday at 10 am.
by Dae-Han Song*
E-mail: [email protected]
*This article is based on interviews and on the article (Vendors Opposing the Modernization of the Noryangjin Fisheries Market) written by Seo Hyo-sung, the General Secretary of the Emergency Task Force Against the Modernization of Noryangjin Fisheries Market.
---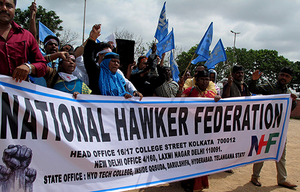 India: Hawkers will fight RCEP until the end
More than 90 per cent of the workforce in India is working in the informal economy, contributing to about half of the national income. Street vendors, or hawkers, play a significant role. Over 10 million hawkers sell all kinds of goods across India, especially food.
They're a good example of how strong local distribution systems can be, and how much they can make a difference. But when international trade deals like the Regional Comprehensive Economic Partnership (RCEP) come along, pushed by large corporate interests, it can only mean bad news for them.
Hawkers operate through local networks. They work with local food producers and suppliers. They serve local consumers through local markets. The system they're part of provides a livelihood for millions of people throughout India.
RCEP stands in the opposite corner. In the agri-food sector, it would privilege large supermarkets and import goods from whoever around the world sells them the cheapest. The leaks of the draft trade deal have shown that, if ratified, RCEP would make it illegal for a government like India's – central or state – to enact measures forcing stores to buy a set percentage of products from local suppliers.
Currently, because they have to sell at least 30 per cent of products originating from India, no foreign supermarket is operating as a multi-brand retailer in India. Giant supermarkets such as Walmart or Metro only operate as wholesale stores, for which there is no requirement to locally procure the goods they sell. As such, the hawkers cannot sell directly to consumers.
If RCEP were implemented, supermarkets would be able to sell a huge array of cheap, subsidised products coming from all over the globe, ignoring seasonality and the long distances travelled. China alone, seen as a source of agricultural dumping in Asian countries it already has trade deals with, could be a big threat. In other words, the RCEP would destroy a significant part of the Indian economy and livelihoods, in favour of international markets.
"We don't need the RCEP," says Saktiman Ghosh of the National Hawkers Federation. "We've already got all we need. We support the local economy, but with the RCEP, all of this will go away."
The activities of hawkers actually go beyond that. They're also a means to ensure food security and resist international food crises. A system based on importing goods from other countries is vulnerable to the volatility of international markets, with prices going up and down. It can be a threat to food security, whereas a strong local distribution system can guarantee it.
Indonesia, for instance, was self-sufficient in soybean production until the agriculture agreement of the World Trade Organisation was implemented. Today, it imports 80 per cent of its soybean needs mostly from the US and Brazil. Indonesian farmers have basically stopped growing it, as it is no longer viable. When the global 2008 food price crisis broke out, the country was in trouble.
Yet during the same downturn in India, the hawkers and the small-scale producers they work with prevented the country from experiencing a food crisis.
Hawkers also play a role in tackling the current climate crisis, as local procurement and distribution systems are an important means to reduce global warming. The hawkers' carbon footprint is insignificant when compared to structures that encourage the consumption of products grown, packaged and transported from the other side of the world. In that sense, they have an impact in India but could also inspire other countries to rethink their food systems and go local.
The RCEP poses a significant threat to all this, but the hawkers haven't had their last word. They are ready to fight the agreement.
As Ghosh puts it, "We are the hawkers, and we will march, we will go after you wherever you are if you try to destroy us."
By Bilaterals.org
[email protected]
First published on http://www.bilaterals.org/?india-hawkers-will-fight-rcep
---