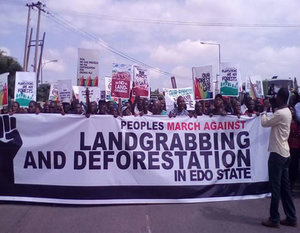 Hello friends,
We urge you to support us in adding more voices to our struggle against large-scale industrial oil palm plantations by Okomu Oil Palm PLC (a member of the global SOCFIN).
After successful protest marches on the streets of Edo State where Okomu Oil Palm has operational base, anti-land grab campaigners led by the Environmental Rights Action/Friends of the Earth Nigeria (ERA/FoEN) are are writing to the Edo State Government to stop Okomu from further land grabbing for industrial agro commodities business in the name of development.
We are contacting you to support our e-action to Governor Godwin Obaseki of Edo State asking him to enforce the revocation order of 13,750 hectares of illegally acquired land in Owan and Okomu Forest Reserves by Okomu Oil Palm Company Plc.
Governor Godwin Obaseki cares about his image at the international level particularly as he brands himself as an investor-driven Governor at the detriment of local communities and livelihoods with differentiated impacts on women.
Support our petition as we internationalize our struggles against deforestation and corporate land grabs for large-scale oil palm plantation business.
Okomu Oil Palm Plc is fighting back so your support is key as we make this final push
Two things you can do:
Sign on to the petition below calling on the Edo State Governor to enforce its revocation order of 13,750 hectares of de-reserved land by ensuring that Okomu Oil Palm PLC vacates the area and stop oil palm plantation business in the area.
Share the petition with others for sign on as we look forward to one million signatories.
Please kindly sign on with this link and also share:
http://erafoen.org/index.php/2017/07/28/uphold-edo-state-government-revocation-order-on-okomu-oil-palm-company-plc/"