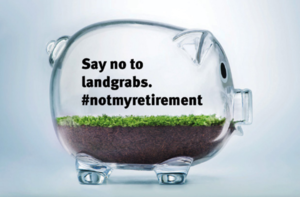 Pension funds are among the most influential actors in the global financial industry. They manage more money than all the sovereign wealth funds, hedge funds and private equity funds of the world combined, and Canada is home to some of the biggest pension funds on the planet.
The decisions that pension fund managers make on how to invest working people's savings have enormous consequences. They can inflate real estate bubbles and commodity prices, make controversial megaprojects possible or, in much rarer cases, change corporate behaviour by threatening divestment.
Since the financial crisis of 2008, pension fund managers have been trying to find alternative investments to stocks, especially longer-term investments that can hedge against the volatility of the stock market. One new area of interest for them is farmland and a lot of pension-fund money is going there.
The typical argument for farmland investment goes like this: population and income growth is increasing the demand for food, putting more pressure on the earth's finite and shrinking available agricultural land. Food prices are therefore only going to increase over time, as will the price of farmland. In the words of Mark Twain, altered slightly by investment guru Jim Rogers, "Buy farmland, they're not making it anymore."
All kinds of new funds have been created over the past decade to buy farmland, most of them focussed on attracting money from pension funds. Some target lands in Eastern Europe, others Africa or Latin America. Some see Australia as the big opportunity, while others have their sights on Canada's Prairies.
This inflow of money from the financial sector is already being felt in the countryside. It is pushing up land prices, making it harder for farmers, especially young farmers, to get access to farmland and stay out of debt. It is also contributing to land consolidation and large-scale farming, leading to a further decline in smaller family farms and the expansion of chemically intensive and environmentally destructive agriculture.
In some parts of the world the inflows of pension-fund money are more directly displacing people from the land. More and more small farmers, pastoralists and Indigenous people are being evicted from their lands, often violently, to make way for big farmers and plantation operators backed by international finance. Last year, 26 land defenders were assassinated every month, according to the Pesticide Action Network (Asia Pacific).
In 2012, the Ottawa-based NGO Inter Pares (where I work) linked up with a small coalition of organizations in Brazil, Canada, Sweden and the U.S. to investigate how a global farmland fund managed by the U.S. teachers' pension fund manager, TIAA-CREF, was acquiring farmland in Brazil. Pension funds sometimes invest in funds managed by other pension funds, so TIAA-CREF's global farmland fund had money from Canada and Sweden. In Canada, Caisse de dépôt et placement du Québec (La Caisse) and the B.C. Investment Management Corp. (bcIMC) are heavily invested in TIAA-CREF's global farmland fund.
TIAA-CREF insists that its farmland investments are "responsible." It spearheaded the creation of farmland investment principles for its fellow signatories to the UN's Principles for Responsible Investment, and each year it publishes a report on its global farmland investments that consistently maintains that all of its farmland investments are free of land conflicts and other social or environmental problems.
It's hard to verify TIAA-CREF's claims because the fund manager refuses to make available the exact location of its farm holdings. But after three years of investigations, Inter Pares and its partners were able to identify several farms that the TIAA-CREF fund had purchased. They also uncovered the complex financial structure that the company created to get around Brazilian regulations on foreign investment in farmland.
The TIAA-CREF farms were located in a northern region of Brazil known as Matopiba, which has become the new frontier for the expansion of large-scale soybean agriculture. This is a part of rural Brazil inhabited by Indigenous and Afro-Brazilian communities and small farming families, who have always lived in harmony with the area's fragile but incredibly biodiverse savannah. It is an area where land conflicts are exploding as ruthless businessmen and corrupt officials conspire to use fraud and violence to drive local people off their lands and then sell that land to foreign companies like TIAA-CREF.
An in-depth investigation into one of the TIAA-CREF's farms in the Matopiba region found that it was purchased from a Brazilian businessman convicted of land-grabbing and widely known to have used fraud and violence to displace local communities in the area. With the support of Development and Peace and other Canadian organizations, Inter Pares is working to put pressure on the La Caisse and bcIMC to withdraw from their investments in the TIAA-CREF farmland fund.
A short animated video to explain the issue was uploaded to YouTube to help make people aware of the issue. The video was produced to accompany a campaign encouraging people to write the two pension funds to ask them to refrain from investing in TIAA-CREF's global farmland funds and to suspend other speculative farmland investments. The campaign also demands that TIAA-CREF make public the nature, extent and specific location of its investments, either direct or indirect, in agricultural land.
Development and Peace is also working closely with partners in Brazil to help communities affected by land-grabs from TIAA-CREF and other investors in the Matopiba area. Support is needed more than ever, as the new government is moving ahead with a bill to eliminate the country's restrictions on foreign investment in farmland.
La Caisse has acknowledged reading the investigative report but has refused to meet to discuss it, while bcIMC has yet to respond to the campaign in any way. We know they are paying attention and are concerned by the negative publicity. So are Canada's other pension funds.
The larger objective here is to push back against the increasing interest of all Canadian pension fund managers in farmland, whether the land is in Brazil, Africa or here in Canada. Pressure does work. The CPP Investment Board made a major investment in a Canadian farmland fund last year, then in April this year announced it has decided against making further investments in farmland and is open to selling its existing portfolio.
Pension fund managers invest in a wide variety of industries that raise ethical questions, from arms to mining, with little accountability to the people whose savings they manage. Given their huge financial influence it is high time we started asking some serious questions about how our savings can contribute to positive economic development and whether there are better ways for society to look after its elders.
Source: https://www.policyalternatives.ca/publications/monitor/monitor-julyaugust-2017