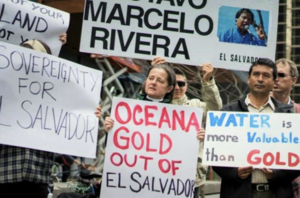 19 December 2016
To: OceanaGold CEO Mick Wilkes, OceanaGold Board of Directors, and OceanaGold Shareholders
From: Organizations around the World
RE: Pay Up and Pack Up from El Salvador
We, the undersigned organizations representing XXXX of people around the world, have been accompanying allied groups in El Salvador in support of their work to prevent gold mining in their communities since 2009. That is the year when your Pac Rim Cayman subsidiary filed an unjust investor - state lawsuit with the International Centre for Settlement of Investment Disputes (ICSID) against El Salvador. It is also the same year when three anti-mining community leaders and an unborn baby were brutally murdered in northern El Salvador, in the area where your company was conducting its operations.
Over these past seven years, we have actively supported Salvadorans and their government in their fight to protect the fragile Lempa watershed, and to uphold their right to say "no" to metals mining. We have also strongly denounced this case, which has cost the poor country of El Salvador more than $13 million USD in legal fees and related expenses.
The October 2016 ICSID panel award unanimously and clearly stated that the Pac Rim Cayman suit did not have any legal merit. Indeed, the Pac Rim Cayman vs El Salvador suit demonstrates the abuse of "investor-state" settlement provisions of international trade agreements and foreign investment laws. This case dragged on for seven years and should never have taken place.
Given this ruling, we support our allies in the Salvadoran Roundtable on Metallic Mining in demanding that:
OceanaGold accept ICSID's decision and do not seek an annulment;
OceanaGold pay immediately the $8 million USD you owe to El Salvador for legal fees and expenses;
OceanaGold, Minerales Torogoz, Dorado Exploraciones, and the El Dorado Foundation leave El Salvador immediately and cease the publication of paid advertisements and other misleading information on your activities in El Salvador;
OceanaGold issue a public apology to the people and government of El Salvador for the damage already caused by Pacific Rim's exploration in northern El Salvador, the negative impacts of your ICSID suit, and the conflicts that have resulted from OceanaGold's ongoing operation in northern El Salvador, including through the El Dorado Foundation; and
With respect to the above, OceanaGold should cooperate fully in a full, impartial investigation into the murders and threats that have taken place in connection with this conflict over the years.
To sign on, visit: http://www.stopesmining.org/j25/index.php?option=com_content&view=category&layout=blog&id=97&Itemid=526