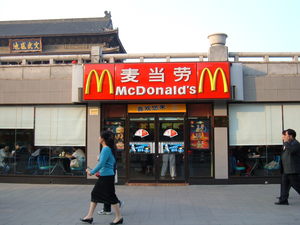 McDonald's plans to open more than 1,500 restaurants in China and Korea with local partners over the next five years, as it refocuses on expansion in the world's second-biggest economy after a food safety scare there in 2014 hit sales.
Once the outlets are opened, the world's largest fast-food chain by sales would have more than 4,300 restaurants across the two countries, 54 per cent more than the roughly 2,800 it has now.
The company is working with Morgan Stanley in Asia to find local partners, which it said would expedite growth and decision making while increasing funds available for investment. Its stores in China and Korea account for 7.8 per cent of McDonald's outlets worldwide.
RJ Hottovy, an analyst at Morningstar, said it was a "smart strategy" to work with local partners in Asia, pointing to similar moves by companies such as 3G-owned Restaurant Brands International's Burger King.
"[It's a] situation where they can find a large private equity or other franchising company in those regions and effectively put a lot of capital responsibility on to those guys [with] sub-franchising rights," he said. "Burger King has had great success with this."
The expansion plans come as China—where McDonald's has already said it plans to open 250 restaurants this year—becomes increasingly competitive in the fast-food market with changing consumer tastes, rising labour costs and higher rents, and slower economic growth. Along with rival Yum Brands, which owns and operates the KFC, Pizza Hut and Taco Bell franchises, sales suffered following a meat mislabelling crisis in 2014 that also affected its Japanese operations.
"These actions build on our turnaround efforts and will advance local ownership, enable faster decision-making and achieve restaurant growth," said Steve Easterbrook, chief executive of McDonald's, in a statement on Thursday.
The expansion in China also comes amid big changes at Yum, which is spinning off its Chinese operations, and is in talks with KKR to acquire a minority stake.
McDonald's, which is based in Oak Brook, Illinois, is undergoing a transformation led by Mr Easterbrook. In the US, he is steering the company back to sales growth in its all-important home market after a tough few years losing out to younger companies with healthier menus.
Abroad, in what it calls its "high-growth markets" including China, Korea and Russia, McDonald's is looking to expand with the aid of local partners, as part of a broader plan to reduce the number of restaurants it owns and operates. Last year it said it had made an agreement with a local partner to expand in western Siberia.
It has also said it is looking for partners in Japan, where half of the company's shares are listed, and Taiwan.
The headway that McDonald's has been making in reversing losses at home with simpler menus, all-day breakfasts and healthier offerings has helped push the company's stock to record highs.
However, McDonald's is not without its controversy. The European Commission has accused Luxembourg of establishing a tax scheme for the company, allowing it to pay no tax on European royalties. And in Brazil federal prosecutors have launched an investigation into alleged violations of labour, tax and franchise laws.
Source: Financial Times