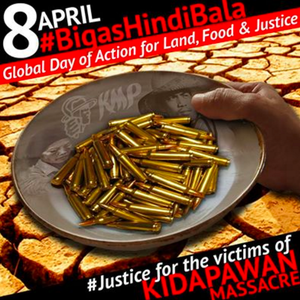 The Kilusang Magbubukid ng Pilipinas or Peasant Movement of the Philippines (KMP) and the Bagong Alyansang Makabayan or New Patriotic Alliance (BAYAN) announced April 8 as "Nationwide and Global Day of Action for Food, Land and Justice".
We call on the KMP members and its allied organizations nationwide to launch "sympathy barricades and protests across the country" to condemn the brutal and shameless massacre in Kidapawan perpetrated by the Aquino government. Let us denounce the bloody dispersal of a farmers' rally in Kidapawan City, North Cotabato last April 1, 2016. The incident left two persons dead, at least 37 hurt and wounded. Many are still unaccounted for after the violent dispersal, including women, elderly and six minors.
We call on the members and networks of the Asian Peasant Coalition (APC) in Bangladesh, Cambodia, India, Indonesia, Malaysia, Mongolia, Nepal, Pakistan, Sri Lanka, to be with us and hold Solidarity Actions on April 8, to condemn the brutality of the Aquino government and call for justice to the victims of Kidapawan massacre.
We also call on our international friends and allies to join us on April 8 and support Kidapawan farmers.
The undeclared martial law in Kidapawan must be stopped.
Please watch this video about the massacre entitled "Bullets for Rice: the massacre of protesting farmers in Kidapawan" (this video contains violence):
We are also soliciting support for the Kidapawan farmers. For cash donations you may deposit them at the following bank details:
Account Name: Kilusang Magbubukid ng Pilipinas
Bank name: Bank of the Philippine Islands (BPI)
Peso account number: 445-1001-286
Dollar account number: 445-4002-488
Swiftcode: BOPIPHMM
Bank address: West Ave-Baler Branch, West Avenue,
Quezon City, Philippines 1100
Telephone: (632) 3723693
JUSTICE FOR THE VICTIMS OF KIDAPAWAN MASSACRE!
LONG LIVE INTERNATIONAL SOLIDARITY!
#BigasHindiBala
#FoodNotBullets
#LandNotBullets
Asian Peasant Coalition:
website: http://www.asianpeasant.org/
Facebook: https://www.facebook.com/asianpeasantcoalition/