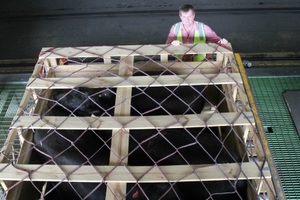 Next time you're stuck on a long-haul flight in a packed, economy-class cabin, being ignored by a frazzled flight attendant, spare a thought for the passengers on a recent flight from Melbourne to Chongqing in China. They were cows.
Crated up and loaded onto the main deck of a Boeing Co. 747 cargo plane by hydraulic lift, the 150 beasts were on Australia's first live cattle flight to central China. Destination: the abattoir.
The flights are possible, and profitable, because of China's soaring demand for fresh beef and regulations that require imported live animals to be slaughtered close to their point of entry. That means that if you want to sell fresh steaks to China's booming inland cities, like Chongqing, you need a big plane.
"Air freight does provide the opportunity to get cattle into inland areas," said Cameron Hall, general manager for live exports at Elders Ltd., the Adelaide, Australia-based rural-services company that managed the first flight on Oct. 20. "If you're sending them in by sea, then that limits you very much to the coastal areas."
Billions of burgers
The prize is clear. China will eat an extra 2.2 million tons of beef a year by 2025, according to Rabobank -- enough to make 19 billion quarter-pounders. The demand pushed up Chinese prices fourfold since 2000 to about $10 a kilogram in
June -- making them among the most expensive in the world and more than double the benchmark rate in Australia.
So, just months after the two countries sealed a free trade agreement covering everything from cows to coal, Australia-based livestock agents and exporters have chartered aircraft, sought out quarantine sites and designed bigger animal transport ships.
"It's a massive opportunity," said David Williams, managing director of Melbourne-based advisory firm Kidder Williams Ltd. who has brokered agricultural deals for 30 years. "The China market is a growth story."
Part of the reason for growth is a change in diet. For centuries China's favored meat has been pork, partly because backyard pigs not only supplied meat, but were good at turning waste into manure. Until recently, beef -- once known as "millionaire's meat" -- was very rare. With China's recent rapid urbanization and the rise of a middle class, that's changing.
Eating every organ
Hog meat now accounts for less than 60 percent of total protein demand in China compared with more than 90 percent three decades ago, according to New Hope Group Co., the nation's biggest maker of animal feed.
That means the rise of a $60 billion-a-year beef market. And in China, almost every part of the animal is used.
"The offal and the bones and all that product is used in a manner that is even beyond our imagination," said Scot Braithwaite, chief operating officer of livestock exporter Wellard Group. "The bones get one use, to be boiled and used for soups, and they dry it out and use it again as a basis for Chinese medicine."
Consumers in China will pay more than in other markets for top-grade beef when they're certain it's been reared in Australia, said Braithwaite. At the same time, the chance to buy the animal's internal organs, fresh from the abattoir, also drives up the price.
Cattle class crates
Australian suppliers are gambling that the added value will make it worth flying animals to market. Last month's flight from Tullamarine airport outside Melbourne was a test.
On that inaugural flight of animals for slaughter, Angus and Hereford cattle were packed onto the aircraft's main deck -- where you'd sit as an economy passenger -- in crates of four or five, Hall said. Upstairs, where business class travelers would sip on champagne on a passenger jet, there was room for a few human escorts.
The cows were given limited food and water before the trip to reduce the mess they'd make during shipment. What they did excrete during the 13-hour flight was soaked up by absorbent mats, which were destroyed at the destination, along with the crates.
Once in China, the cows were lifted onto trucks with a crane, to be taken to the quarantine area. That site must be within 90 kilometers (55 miles) of the arrival port, according to Hall.
Suffering concerns
China and Australia in August agreed on the health rules governing shipments of live cattle, clearing the way for the maiden flight. Even so, animal rights groups are concerned about the stress the animals might suffer.
"There are still glaring animal-welfare issues ahead for all future exported animals," the Royal Society for the Prevention of Cruelty to Animals in Australia said in an e-mailed statement. "The Australian government is best to instead focus on the chilled and frozen beef industry rather than putting the welfare of more Australian animals at risk by sending live cattle to China."
Other exporters are planning sea voyages for their cows.
In the Western Australian port of Fremantle, Wellard struck a beef supply deal in August with China's Fulida Group. The Australian company has ordered two ships, to be delivered in the next two years, that will help carry around 60,000 cattle a year to China on voyages that take less than a month.
Kuwaiti-owned shipper Rural Export & Trading (WA) Pty, based in Perth, is also making plans for its first cattle deliveries to China. It's waiting for as many as three new $80 million double-deck ships that can carry 23,000 sheep and 10,000 cattle in a single load.
"You don't go out and spend that sort of money without having a pretty good feeling about the future," said Mike Gordon, Rural Export's managing director.