(5 June 2015 – The Ecologist) The Syrian steppe covers 55% of the country's territory. This vast steppe land, together with portions from Iraq, Saudi Arabia and Jordan, has been grazed sustainably bynomadic indigenous pastoralists (Bedouins) for centuries (if not more). Each tribe and clan was linked to certain seasonal pastures and this ensured the sustainability of the grazing - a practice finely calibrated on the need of plant regeneration.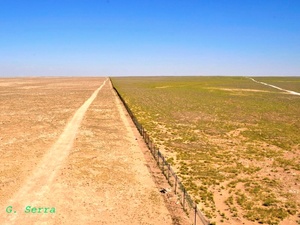 These pastoralists of Arabia are known to have been pioneers in establishing 'protected areas' (hema): certain pastures were relieved from grazing, permanently or temporary, in order to allow keeping the whole ecosystem healthy and functional.
The beginning of the ecological degradation and destruction came with the modern state, so keen to uncritically import ideas of maximization of agricultural yields from the Soviet Union: in particular the central government decided to nationalize the steppe in 1958, establishing de facto an open access system - a well known recipe for ecological disaster.
Through this arrangement the customary link between the natural resource and its user was interrupted - abruptly disowning the traditional ecological knowledge of this ancient people. The pastures, not managed and protected anymore by the tribes, started to be over-grazed by free-ranging pastoralists.
A major role in this unfolding disaster was played by affluent urban investors who threw thousands of livestock into the steppe turning the grazing into a large-scale, totally unsustainable, industrial practice.
A similar sort of story of gross mismanagement took place in the eastern part of the Syria's steppe land, the territory east to the Euphrates, allocated to intensive agriculture via irrigation through underground water.