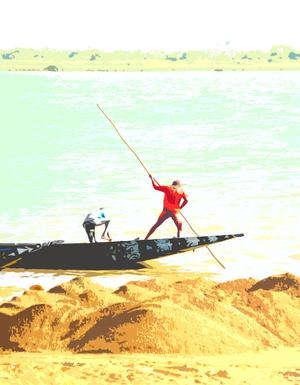 We, social and grassroots movements and their allies met at the African Social Forum in Dakar in October 2014, with the objective to unite all the struggles for the Land and Water and against the criminalization of activists thereof. We have developed a declaration entitled "Rights to Water and Land, A Common Struggle".
This Declaration was written in a spirit of solidarity and collective pooling and aims at being a starting point for the development of a Global Convergence of Land and Water Struggle. The organizations promoting this Declaration invite you to join our space of convergence during the World Social Forum in Tunis.
We will have joint sessions in the mornings of March 25th, the 26th and the 27th and an assembly of convergence on March 28th to share experiences of water and land struggles at national and international level, and to build together the future of the Global Convergence.
Moreover, we have a series of other workshops in the course of these days which also deal with water and land struggles and want to associate with our space of convergence.
The Global Convergence of Water and Land Struggles is a collective effort also built in close collaboration with the Global Convergence of Resistances to Corporate Power.
Download the full programme of joint sessions and workshops.
Conveners
La Via Campesina, World Forum of Fisher eoples, Convergence malienne contre l'accaparement des terres, GRAIN, COSPE, Comitato italiana contratto mondiale sull'acqua, Transnational Institute, Habitat International Coalition, Terra Nuova, Friends of the Earth International, FIAN International.
To become a co-convenor and participate in the political shaping of this global convergence, please write to: Chantal Jacovetti, [email protected]