STOP GOLDEN RICE
Asian Farmers' Network Against Golden Rice | 10 March 2015
JOINT STATEMENT
Golden Rice is unnecessary and dangerous
The STOP Golden Rice Alliance strongly denounces the Golden Rice Campaign Tour planned for the Philippines, Bangladesh, and India initiated by the Allow Golden Rice Now! this March. Golden Rice is a covert attempt to win wider approval for genetically modified food and will not solve problems of malnutrition.
Vitamin A deficiency (VAD) – like other problems on malnutrition and hunger – is not caused by the lack of Vitamin A in food, but by people's inability to achieve a balanced diet. The Green Revolution, with its inherent bias towards monocultures of staple crops, has led to unbalanced patterns of food production around the world. As the UNICEF and the Food and Agriculture Organization (FAO) have stated, variety and diversifying food is the key to solving vitamin deficiency; in countries where people eat more than 200 grams of vegetables per day, Vitamin A deficiency is not a major problem.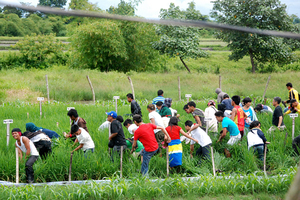 This is why the issues underlying Vitamin A deficiency can never be addressed by promoting a genetically modified Golden Rice.
The increased complexity of the gene constructs of Golden Rice makes it even more hazardous than existing GM plants. Unpredictable toxic by-products can also be created and over-expression can also increase the potential toxicity of Vitamin A in the form of transgenically expressed retinoic acid and can also exacerbate unintended metabolic effects as well as instability.
With inexpensive Vitamin A abundantly available from various natural sources, produced by small scale and backyard producers, it is a mistake to turn blindly to Golden Rice, a crop that the International Rice Research Institute (IRRI) itself admits it has not yet determined if it can actually improve the vitamin A intake. (IRRI, 2014)
The proponents of Golden Rice argue that this rice variety which contains beta carotene, thanks to bacteria and maize genes spliced into it, will significantly reduce vitamin A deficiency more cheaply and efficiently than the long standing Vitamin A supplementation program. But many countries have already succeeded using Vitamin A supplementation. It is proven and cost-effective: two doses of Vitamin A supplementation per child cost between 0.25 and 2 US$ a year in 103 priority countries. (WHO, 2011)
Meanwhile the process of developing still-unproven Golden Rice has already cost millions of dollars. On top of about $100 M already spent in its development, the Bill and Melinda Gates Foundation for example, gave an additional $10.3 million grant to the IRRI to fund the further development and commercialization of Golden Rice.
It is clear that the development of Golden Rice, with its avowedly humanitarian mission to solve Vitamin A deficiency serves the biotech industry in its efforts to win wider approval for GM foods. It is a tool to promote GMOs that would pave the way towards control of food and agriculture by agrobiotech corporations.
Rice should never be genetically modified, as it is the staple food for billions of Asians. It is also an integral part of multitudes of cultures and traditions across Asia. Rice evolved and is continually nurtured and protected by millions of farmers and they take pride in thousands of rice varieties developed thru centuries.
Farmers and civil society organizations united in the Stop Golden Rice Alliance strongly denounce the Golden Rice Campaign Tour planned for the Philippines, Bangladesh, and India from 4 to 20 of March 2015. We will continue to call for the prohibition of the commercialization of Golden Rice; to defend and protect our traditional and farmer-bred crop varieties; safeguard the environment and the health of our people; and oppose control of transnational seed and agrochemical corporations over farming and agriculture. ###
STOP Golden Rice Alliance is an alliance of farmers groups, civil society organizations, sectoral groups and individuals calling to stop all forms of genetically modified crops, food and other tools of corporate control in food and agriculture. The alliance also strives to forward food sovereignty with a type of agriculture that is sustainable and productive through agro-ecology, safe food free from GMOs, uses and nurtures biodiversity and with social equity. Members include:
1. AGRA, Indonesia
2. APVWU, India
3. Asian Peasant Coalition
4. Consumers Union of Japan
5. Dr. Debal Deb, India
6. Dr. Romy Quijano, Philippines
7. Gita Pertiwi, Indonesia
8. Go Organic Davao City, Philippines
9. GRAIN
10. Kilusang Magbubukid ng Pilipinas, Philippines
11. MASIPAG, Philippines
12. MFDC, India
13. MONLAR, Sri Lanka
14. No GMO Campaign, Japan
15. ORISSA, India
16. PANAP
17. People's Coalition on Food Sovereignty
18. RESIST Agrochem TNCs!, Philippines
19. SHISUK, Bangladesh
20. Tananua, Indonesia
21. Thanal, India
22. WELIGEPOLA, Sri Lanka
For further information, please contact:
Philippines: Dr Chito Medina, MASIPAG National Coordinator, [email protected]
Indonesia: Ms Kartini Samon, GRAIN, [email protected]
India: Ms Sreedevi Lakshmikutty, Save Our Rice Campaign, [email protected]