Bangkok Post| 15 February 2015
Rights groups decry land activist killing
Four locals slain in attacks since 2010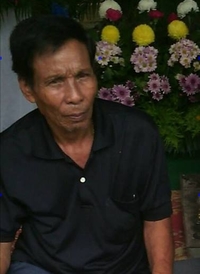 International and local human rights defenders have condemned the murder of a land rights activist in Surat Thani, calling on police to launch a "serious" hunt for his killers.
Human Rights Watch on Saturday urged the authorities to immediately investigate the shooting of 65-year-old Chai Bunthonglek, who was gunned down on Wednesday.
According to witnesses, an unidentified man shot Chai six times in his chest and head at about 6.30pm. The assailant then escaped on a motorcycle with an accomplice.
Human Rights Watch accused successive Thai governments of failing to prevent and respond to attacks against local activists.
"For too long Thai authorities have stood by while activists like Chai have been murdered in cold blood for standing up for their communities," said Brad Adams, Asia director of the organisation.
"The government needs to immediately conduct a serious and impartial investigation and bring those responsible for Chai's death to justice."
Three other activists in Chai's network have been killed in attacks since 2010. But provincial and state authorities failed to offer any protection to Chai or members of the Khlong Sai Pattana community, which is affiliated with the Southern Peasants' Federation of Thailand.
Mr Adams said that Chai's family and members of the federation are now living in fear because they do not know who might be the next target of a deadly attack.
Chai had long campaigned to obtain land ownership rights for the Khlong Sai Pattana community in Surat Thani province.
The Abhisit Vejjajiva government granted the Khlong Sai Pattana community permission to continue living on their homeland, which is also the site of an old palm oil plantation. However, the area is still being illegally occupied by palm oil investors, despite the fact their land lease for the site has expired.
There have been many violent attempts to force the Klong Sai Pattana people to vacate the land.
Chai is the fourth activist from the Khlong Sai Pattana community to be killed in the past five years.
Human Rights Watch said no one has been held accountable for the killings of Somporn Pattanaphum in 2010, Montha Chukaew in 2012 or Pranee Boonrat in 2012.
All were leaders of the campaign to seek community ownership of the land and evict the major palm oil operator.
Community members told Human Rights Watch that previous police investigations into the murders of community leaders had been half-hearted, inconsistent and ineffective.
The local Assembly of the Poor network also condemned the latest killing.
In a statement, the group strongly criticised the National Council for Peace and Order for its failure to protect the rights of disadvantaged people.
It warned that in some violent cases, the military had been seen to support investors and business operators who were violating the rights of the poor.
Chai Buri district police chief Pol Col Songkram Wanna said yesterday that police are collecting evidence and information from witnesses in the murder case.
He said he could not disclose further details since it could damage the investigation, but insisted police are not ignoring violence in the area.
Since 2001, more than 30 human rights defenders and environmentalists have been killed in Thailand. The police have charged suspects in fewer than 20% of these cases, leaving villagers to face deadly threats, Human Rights Watch said.
Source: http://tinyurl.com/m6hsdbl
Read Assembly of the Poor statement: /attachments/3340/download