Cheap oil | A scramble for lands
The surging global demand for oil palm has produced windfall profits for palm oil companies and turned them into hot targets for investment by banks, pension funds and other financiers looking to cash in on the palm oil boom. All the major palm oil companies are ploughing this new found money into more plantations. So much so that it is difficult to say if money is a bigger driver of plantation expansion than the global demand for palm oil.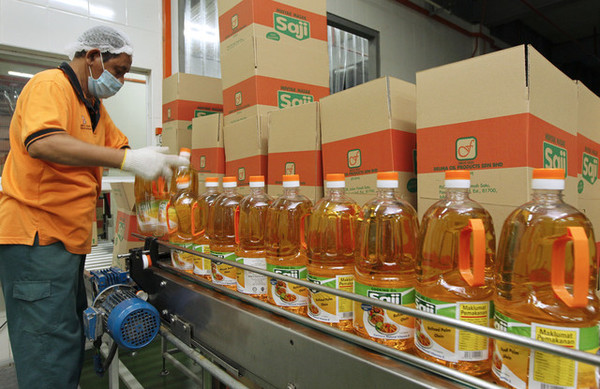 In Indonesia alone, US$12.5 billion is estimated to have been invested in oil palm expansion between 2000 and 2008, and those numbers are rising.1 Much of this money comes from Singapore, where Indonesian tycoons parked their ill-got fortunes to escape from the clampdown that occurred after the collapse of the Suharto dictatorship. These tycoons are using this money and their old political influence to build up plantation empires throughout Indonesia, and even to other countries such as the Philippines and Liberia. Oil palm plantations are also a favourite destination of Malaysian companies with close connections to the ruling elites. The forestry companies linked to the Chief Minister of the Malaysian state of Sarawak are particularly active in building up land banks for oil palm plantations in Borneo, Papua and Africa. Meanwhile in Colombia and Honduras, paramilitary groups and drug barons are deeply intertwined with oil palm expansion.2
More conventional conduits for funnelling money into oil palm plantations are also to be found. Some of the largest palm oil companies have recently turned to public offerings on stock markets to raise money from the financial houses and institutional investors eager to get a piece of the palm oil boom. In 2012, Felda, the Malaysian state palm oil company, restructured and went partially public, raising $3.3 billion in what was the third largest share offering in the world that year. The share sale left Felda with a $2 billion cash pile that the company has since been using to acquire lands for oil palm and rubber plantations outside of Malaysia.
That same year, one of the largest oil palm plantation companies in Indonesia also made an initial public offering. Bumitama Agri, controlled by Indonesian billionaire Lim Hariyanto Wijaya Sarwono, raised around US$177 million on the Singapore Stock Exchange, as palm oil giant Wilmar and several Asian, European and US financial management companies each bought multimillion dollar stakes in the company. Bumitama said it would allocate US$114 million from the IPO for the expansion and development of its existing uncultivated land bank.3
The forestry flip
In September 2012, Global Witness and the Liberian NGOs Sustainable Development Institute and Save My Future Foundation issued a shocking report. Wading through the vast number of land use permits issued to logging companies since the lifting of UN Sanctions on Liberian timber in 2006, they made the startling discovery that the Malaysian logging company Samling had taken control of around 10% of Liberia's total land area. Samling linked companies had acquired permits covering 10,200 km2.4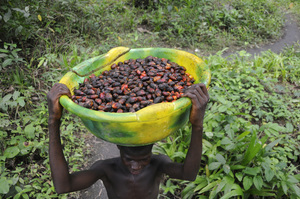 The report also unearthed another key bit of information. In the areas where it was acquiring logging permits, Samling was also amassing a land bank for oil palm plantations. Samling's companies were getting communities to sign 75 year "agricultural conversion agreements" giving the company rights to convert the areas to oil palm plantations once they have been logged out. According to the NGOs: "The unsigned agreements we have seen suggest that Atlantic Resources may plan to set up its own palm oil subsidiary or department to operate these plantations."
Samling does have an oil palm subsidiary, Glenealy Plantations, that it established in the 1990s to construct oil palm plantations on deforested areas of Sarawak, the company's home base. The plantation subsidiary followed in the foot steps of the company's logging division as it expanded into Indonesia and then Papua New Guinea, where Samling now holds lease rights for oil palm plantations on at least 128,000 ha.
Samling is not the only forestry company pursuing this model. Data collected by the environmental group WALHI shows how the practice has been rampant in Indonesia, where oil palm expansion is happening faster than anywhere on earth.
Between 1980-2001, companies, most of them controlled by friends and relatives of President Suharto, acquired an incredible 72 million ha of lands under forestry permits in Indonesia, while 4.1 million ha were handed out for oil palm plantations. But between 2004-2014, the forestry numbers dropped to 25 million ha, while the oil palm numbers increased to 19 million ha. WALHI predicts that oil palm concessions will be the main source of land concessions over the next 10 years, accounting for 26.3 million ha, in comparison with 26.2 million ha for forestry.
"What is gradually happening," explains Zenzi Suhadi of WALHI, "is that Indonesia's rainforests are all being converted into oil palm monocultures."
Alas Kusuma is one of the largest holders of forestry concessions in Indonesia. Through its close connections with the Suharto government, the company had at least 19 forestry concessions, with a total area of 2,661,376 ha, by the end of the dictatorship in 1999.5 Now the owners of the company are converting these lands to oil palm concessions, often under different company names, and selling them to major palm oil companies for millions of dollars.
In a 2013 deal, shareholders of Alas Kusuma sold permits for 8,000 ha in West Kalimantan to Malaysia's Felda Global Ventures, the world's largest oil palm planter. Felda paid around US$8 million for these permits, even though the company had only planted oil palms on 725 ha and was facing government action to revoke them for failure to develop the lands. Alas Kusuma made a similar sale of logged out lands in 2010 in Ketapang, Kalimantan to GoodHope Asia Holdings Ltd, the palm oil company of Sri Lankan plantation giant Carson Cumberbatch.6
But it is in Papua New Guinea (PNG) where the confluence of the logging industry and palm oil is most extreme. The main means for logging companies to acquire forests in PNG is through an agricultural lease that typically lays out a plan to develop oil palm plantations once the forest has been logged. While few companies end up sticking around once the logs have been taken, the growing global interest in palm oil is generating opportunities for them to flip the lands for big sums of money.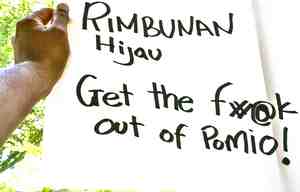 Communities in Collingwood Bay, PNG have been fighting off forestry companies since the 1980s, especially the notorious Malaysian logging company Rimbunan Hijau. In 2002 they won a l4-year legal case blocking a Rimbunan Hijau linked company from taking 350,000 ha of their lands. But in 2009 another Malaysian forestry company, Ang Agroforestry Management Ltd, came to the area with the same local partner to propose an "Integrated Agriculture Project" that would involve the clearing of over 40,000 ha of forest and the establishment of oil palm plantations. Ang Agroforestry claimed to already have acquired the land leases for the project.7
Little is known of Ang Agroforestry except that its shareholder and representative in PNG is Hii Eii Sing, whom the Collingwood Bay communities recognise as the Business Manager of the Rimbunan Hijau group of companies. Hii Eii Sing is also the owner of Sebekai Plantation Sdn Bhd, which has a 5,000 ha oil palm concession in Bintulu, Sarawak, where communities have established blockades and held protests to try and get their lands back from the company.8 In 2003, he was arrested by the police in Indonesia for his role in illegal logging in the Merdey sub-district of Manokwari on behalf of PT Rimba Kayu Arthamas, a Jakarta-based company with a concession in Papua.9
In 2010, the traditional paramount chiefs of the nine tribes of Collingwood Bay representing 326 clans publicly stated their disapproval "in the strongest possible terms" of any plans to introduce oil palm plantations in the Collingwood Bay area. And the communities also got a court order preventing any government or company official from entering their lands without their prior permission.10
The local opposition, however, did not seem to matter to the Malaysian palm oil company KL Kepong (KLK), which has been a member of the Roundtable on Sustainable Palm Oil (RSPO) since 2004. In 2011, it began a process to acquire Ang Forestry, eventually paying Hii Eii Sing nearly US$12 million for a 69% stake in the company. In outlining the reasons for the acquisition, KLK cited increasing difficulty and expense to source suitable land in Malaysia and Indonesia. It said that although infrastructure and accessibility were currently difficult and development costs high, "these disadvantages are counterbalanced by the fertile soil and friendly terrain of the PNG land."11
Cheap oil | A scramble for lands
---
Notes