"In Sri Lanka, my greatest desire is to enlighten the plantation population, about a million, that they have their own land to till and be a dignified citizens in the country." – Sarath
The Asian Peasant Coalition (APC) mourns the death of Sarath Fernando, founder of the Movement for National Land and Agricultural Reform (MONLAR) in Sri Lanka. MONLAR is an active member of APC.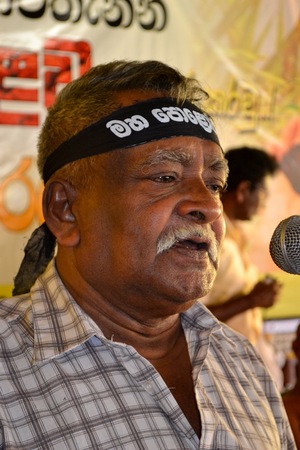 Sarath was born on April 14, 1942 in Moratuwa, Sri Lanka. His full name is Thudugala Mudalige Sarath Justin Fernando. He passed away on 7th September 2014 due to cardiac arrest at the Kurunegala Hospital in Sri Lanka. He was 72 years old at the time of his demise. He was survived by his wife, Sumithra, his two children (Sandun and Samadhi), his daughter and son-in-laws (Rasika and Sanath) and his grandchildren (Sahas, Suhara, Archana and Jithula). His wife's supportive role has been a great source of his strength throughout. His son Sandun works at Oxfam in Sri Lanka and his daughter Samadhi is a medical doctor.
Sarath grew up with a family of activists. His father, an Ayurvedic Physician, was a member of the first Marxist political party in Sri Lanka, the Lanka SamaSamaja Party (LSSP) of mid 1930s. His two brothers and a sister were members of revolutionary organizations in Sri Lanka and they spent a number of years in prison because of their political beliefs. These experiences have helped him to decide and plan for his goals in life.
He was a fulltime member of the Janatha Vimukthi Peramuna (JVP) or Peoples' Liberation Front from 1969 until 1971. He joined the youth uprising of 1971 because of a serious crisis that prevailed in the rural economy. He believed that organizing peasants was essential because small farmers and rural peasantry form the majority of the people who suffer the consequences of the unjust economic and political system. Thus, he joined the peasant movement in 1978 and have been involved in the peasant movement ever since.
Sarath believes that what the world needs today is to restore the ability of nature to regenerate itself. He said that nature has provided enough for survival of all life free of charge. He believes that hungry people have the ability to feed themselves and others utilizing regenerative agriculture. He said that people who are presently excluded from the market will find ways of recreating a world where they will survive.
Sarath is one of the ten awardees of the APC in 2013 during its 10th year anniversary which honours Outstanding Peasants in the Struggle for Land. These awards were given on 4th December 2013 at the People's Global Camp in Bali, Indonesia. Because he cannot travel then, his colleagues from MONLAR, Lakpriya Nanayakkara, receives the award on his behalf.
We are very saddened of his death. However, Sarath will live forever in our hearts for his relentless struggles and unwavering commitment to serve the peasants, the oppressed and the exploited. His great and lasting contribution to the struggle for genuine agrarian reform and social change and development will forever inspire the millions of Asian Peasantry and rural people to advance and achieve victory.
His remains will be cremated on September 10 at the General Cemetery in Kurunegala, Sri Lanka.
We will continue his legacy. We will continue our struggle for genuine agrarian reform and food sovereignty!
Goodbye and Thank you, Sarath!
---
Agroecology vs. Global Crisis. p.2 The answers, from capital to nature. (Sarath Fernando)