Press Release
August 22, 2014
Naga City – A year after the uprooting of Golden Rice, more than a hundred farmers, scientists, consumers and basic sectors joined hands to call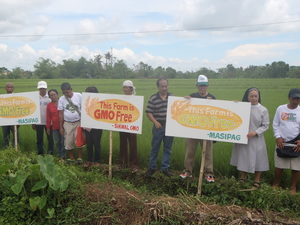 for the immediate halt of the planned field tests and commercialization of Golden Rice in the country, saying that this will only pose more problems rather than solving the problem on hunger and malnutrition. The group also called for respect for farmers' rights to land, seeds and technology and pushed for sustainable approaches to attaining food sufficiency and genuine rural development.
Mr Bert Autor, spokesperson of SIKWAL-GMO (Bicol Initiative Against Golden Rice) and member of the Kilusang Magbubukid ng Bikol (KMB) said that they do not want Golden Rice as it will pave the way towards more GMOs and tie more farmers to indebtedness. Autor said that "more small farmers are into greater debt because of high costs of production and dependency on modern seeds and other production inputs. In a hectare, the average gross income of farmers in the Bicol River Basin is about P36,000. However, the cost of production reaches about P29,700 for the irrigation fee, fertilizer, pesticides and machineries, labor, seeds, land rent, etc. Now they are introducing this Golden Rice to us. We believe that this is again a ploy to further control our seeds and extract profit from farmers. We do not want Golden Rice in Bicol!"
Last August 8, 2013, more than 400 farmers and basic sectors trooped to the office of the Department of Agriculture's Regional Office in Pili, Camarines Sur and uprooted the genetically modified Golden Rice. According to the farmers, the direct action is justifiable to prevent contamination of their precious traditional and farmer-bred varieties, and protect the health of the people and the environment. Golden Rice is a genetically modified rice artificially inserted with genes from a bacteria and corn to produce beta carotene, a precursor of Vitamin A. Golden Rice is owned by agrochemical giant Syngenta. IRRI and local partner Philrice are doing the field testing and plans to feed test it to target communities in the country.
This year, IRRI confessed that the yields of the Golden Rice variety grown in the field trials proved to be a failure. Philrice, the local partner of IRRI in the Golden Rice project has also said that this development has set back the plan to commercialize Golden Rice for another two to three years. Recently, news about the possible retraction of the paper on the Golden Rice feeding trials among Chinese children are being discussed because of ethical lapses in the study. If retracted, this will leave Golden Rice proponents without a strong and factual basis of safety studies that can justify its commercialization.
Citing these developments, Dr Chito Medina, National Coordinator of farmer-scientis group MASIPAG expressed strong opposition against the Golden Rice project. Dr Medina said that "while the project was set back for a couple of years, this does not stop the proponents from doing another round of open field testing of Golden Rice. Feed testing among communities might be ongoing but we do not have any idea when and where it is being done. This project should be called off immediately, as this will not serve the interests of the Filipino people."
Dr Medina also said that there are existing and cheap sources of beta carotene. Dr Medina added that "the Philipines is home to green leafy vegetables and yellow fruit and rootcrops rich in Vitamin A. The yellow sweet potato (dilaw na kamote) has five times more beta carotene per gram than Golden Rice. Instead of focusing on the commercialization of Golden Rice, the government should focus more on ensuring access to food, diversifying food sources and sustainable food production to curb malnutrition. The Department of Agriculture and Philrice should also stop following the dictates of IRRI and transnational corporations, as Golden Rice will be a tool to open up the country to many more GMOs that results to further corporate control."
The group also initiated a campaign to encourage farmers and communities in Bicol to protect their rice and other crops from the expansion of GMOs. Dubbed as GM Free Bicol the group called on farmers in Bicol and the other parts of the country to put up signages declaring their farms 'GM Free'. Likewise, they also encourage communities to call for ban GM crops and products in their food and agricultural farms.
"We see this campaign as a medium to educate the farmers and people on the negative effects of Golden Rice and GM crops in general. Apart from impacts on health and the environment, farmers are also losing to GM crops such as GM corn. In our research, farmers do not earn much from growing GM corn as most of the farmers income are being siphoned by the skyrocketting cost of GM corn seeds, pesticides and fertilizers. We hope that thru this campaign, we can encourage farmers to stay away from GM crops and seeds" added Dr Medina.
To combat GM rice and Vitamin A deficiency, the group are going to eat organically grown foods that are rich in Vitamin A and other nutrients entitled "Pangudto Organiko, Libre sa GMO!" (Organic Lunch, Free from GMOs). This is to show that there are a multitude of safe and nutritious food available compared to Golden Rice and other GMOs.
Forum Organizers
Sararong Insiyatiba nin Kahimanwaan na Wasakon ang Agrokemikals na Lasong-GMO (SIKWAL-GMO)
Magsasaka at Siyentipiko para sa Pag-unlad ng Agrikulture (MASIPAG)
Kilusang Magbubukid ng Bikol (KMB)
For more information, please contact
Dr Chito Medina, National Coordinator MASIPAG
+639175442196
Mr Bert Autor,
Spokesperson SIKWAL GMO
+639999762944