Note from GRAIN:
Yet another food safety scare crawls out of the shadowy depths of a corporate food supply chain.
An undercover exposé broadcast on local TV on July 20 showed workers at Shanghai Husi Food Co using expired meat and doctoring food production dates. Regulators warn there's evidence of systematic illegal conduct by the company, and have ordered checks on all its processing plants.

Shanghai Husi is owned by US food giant OSI, which has been McDonald's main meat supplier around the world for more than 50 years. McDonald's share price has fallen nearly 10 percent since the scandal broke and along with Yum Brands – which owns KFC and other brands – the company has been scrambling to find alternative sources for meat.

Food safety is an important ongoing concern for China, affecting both domestic and foreign companies. Following on previous scandals, the Shanghai Husi affair shows once again how industrial meat production is a disaster from a public health standpoint.

Food safety can fail in both large and small-scale systems of course, but bigger scale means bigger risks. In an industrialised, highly consolidated food system geared to maximising profit by selling vast volumes of cheap food, pressure exists at every phase of the production chain to cut costs by cutting corners, including safe food practices.

Shanghai Husi and OSI are prime examples of how the higher risks of the corporate food industry mean lapses – or systematic breaking of the rules – at a single facility can quickly put millions of people at risk.
Going Further:
GRAIN, "Food safety for whom? Corporate wealth versus people's health", May 2011
GRAIN, "Big meat is growing in the South", October 2010
By Lucy Hornby in Beijing, Jonathan Soble in Tokyo and Neil Munshi in Chicago
(FT – 23 July 2014) Chinese authorities have detained five employees of a US-owned company accused of relabelling expired meat amid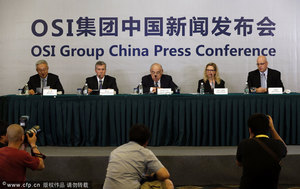 allegations of systemic violations at a key supplier to McDonald's, KFC and other fast-food chains in China and Japan.
Chains have diverted meat supplies from elsewhere in Asia after an undercover investigation by a local television station prompted authorities to shut a processing plant run by Shanghai Husi Food, which is owned by Illinois-based OSI Group.
The food safety scare is the latest to hit western restaurant chains in this critical market, and comes just as Yum Brands, owner of KFC, appears to be recovering from a December 2012 supplier scandal in China.
Yum, which generates more than half its revenues from China, said it was "shocked and appalled" that Shanghai Husi was "suspected of illegal conduct". It said it would terminate all sourcing from OSI China, as well as end its relationship with OSI in the US and Australia, where it supplies Yum "with just a few items". Yum said it reserved the right to take legal action against OSI.
McDonald's, which has doubled the number of its restaurants in China to about 2,000 since 2008, said it had ceased sourcing from the Husi facility in Shanghai that the government has shutdown in light of the allegations.
But the company said it would move sourcing to Husi's new "state-of-the-art" facility in Henan, and continue to source from the company's Hebei facility. McDonald's said it had been told by OSI that it was sending food safety experts to China.
"According to OSI, Chinese authorities have inspected Husi's other facilities, allowing us to confidently serve our customers," McDonald's said.
OSI did not respond to requests for comment.
RJ Hottovy, analyst at Morningstar, said that, in contrast to previous food safety scares, the supplier was large, "so this could be a bit more widespread in terms of the impact to not just Yum, but many other western brands, including McDonald's, Starbucks and Burger King ... potentially into next year".
The actions come amid a heightened awareness of food safety among Chinese consumers, after a string of well-publicised cases. At least six infants died in 2008 after drinking melamine-tainted milk formula, and earlier this yearWalmart was found selling donkey meat adulterated with fox.
Those detained by Shanghai police in the latest scandal are employees of OSI's Shanghai Husi Food subsidiary, and include the quality inspector at the Shanghai plant, according to a police statement on Weibo, the Chinese equivalent of Twitter.
"We found that some of the illegal conduct was not that of certain individuals but was an arrangement organised by the company," Gu Zhenghua, deputy director of the State Food and Drug Administration's Shanghai bureau, told state-run Xinhua News Agency. Shanghai Husi declined to comment.
Authorities on Tuesday ordered checks on all eight of OSI's mainland processing plants and on clients of Husi Food's Shanghai plant.
The Shanghai plant also supplied the meat for about a fifth of the Chicken McNuggets sold by McDonald's in Japan – some 4,300 metric tonnes of chicken a year – and chicken-nugget filling to FamilyMart, one of Japan's largest convenience store chains. FamilyMart said it had suspended nugget sales at its 10,000 outlets.
Yoshihide Suga, chief cabinet secretary, said that Japanese customs authorities would block imports from the Shanghai company. "We intend to take firm measures to ensure food safety, by strengthening inspection procedures to prevent problem food products from entering the country," he said.
Clients of Shanghai Husi have moved to distance themselves from their supplier. For McDonald's, the incident is the latest problem for its Japanese affiliate, which is 50 per cent-owned by the US group. Last year it suffered a fall in profits after it raised prices for the first time in five years, a strategy it hoped would cover higher raw-materials costs and boost profit margins. Instead customers were alienated by the price rises.
OSI said this week that it "believes this to be an isolated event, but takes full responsibility for the situation".