by Stephen Chen ([email protected])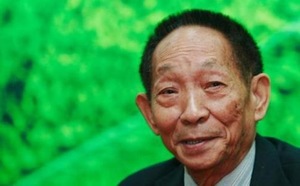 A farming pioneer's ambitious goal to increase the yield of hybrid rice by 11 per cent in the next three years risks making the staple more vulnerable to weather, disease and pests, agriculture experts have warned.

Professor Yuan Longping, whose work in the 1970s made him China's "father of hybrid rice", told a seminar in Jiangsu on Monday that he would attempt to push the yield of one hectare of his "super-hybrid" rice to 15 tonnes by 2015, up from his current record of 13.5 tonnes, according to Xinhua.

Yuan hopes to have a mass plantation of such rice operational by 2020 in an effort to meet the country's soaring food demands. He said the new rice could feed tens of millions more people annually. "A hectare of rice can feed 27 people today, [it] must feed 43 people by 2050," Xinhua quoted Yuan as saying.

But the goal has struck many experts as overly aggressive.

China's rice fields, including both hybrid and normal rice, already yield 6.7 tonnes a hectare annually. That was not far behind the 7.5-tonne yields in developed countries where the most advanced farming technologies are used, such as Australia and the United States.

Several scientists, however, said the 15-tonne target was impractical because the costs of growing such rice, in terms of fertiliser and land management, would be enormous. Moreover, they warned that focus on field yield could sacrifice the crop's resistance to weather and pests.

Dr Ye Guoyou, a researcher with the International Rice Research Institute in Manila, said Yuan's team at the Hunan Hybrid Rice Research Centre had to spend considerable sums to meet their 13.5-tonne-per-hectare record last year, an achievement hailed on the front page of many mainland newspapers. The team invested 10,000 yuan (HK$12,345) to 20,000 yuan per mu (0.07 hectare) on fertiliser, personnel, pest control and other field management.

Since a typical Chinese farmer spends only a few hundred yuan per mu, Ye said the achievement was unimpressive, if not meaningless.

"Such research has made a bad example to other researchers in China," Ye said. "Many government officials are misled by Yuan's 'achievement' and took the high yields for granted."

Worse, he said, the figures might be used as a benchmark to measure other Chinese scientists who apply for government funds.

"As other scientists applied for funds, they might be questioned why they set their yield targets so low," Ye said. "They would need to lie to get the money."

But Wang Weiping, a spokesman for the Hunan Hybrid Rice Research Centre, said the centre was merely pursuing its primary research target: increasing yield.

"There are many other institutes in China that work on the rice's disease resistance and other properties," Wang said. "We only focus on yield as a division of labour."

The super-hybrid rice's super-yield could bring other drawbacks. A researcher at the China National Rice Research Institute in Hangzhou, Zhejiang, said that Yuan's super-hybrid rice had little ability to resist diseases, pests and droughts.

"The rice was created for one purpose, and that's the personal obsession of Yuan, to increase yield," the researcher said, declining to be named.

"As rice devotes every bit of its energy to increasing yield, it would have nothing left to deal with diseases and insects. Yuan's team has considered all things to keep the rice alive in their experimental fields, except cost," he said.

The scientists said while the super-hybrid rice's yields sound impressive, it is far from a practical solution to meet the mainland's huge food supply needs.

The Rice Research Institute researcher said Yuan's goal, which works out to 1,000 kilograms per mu, was not so amazing if all the conditions were favourable to rice growth. An ordinary rice species had achieved the same yields about 30 years ago in Dali, Yunnan, he said.

Wang, of the Hunan rice centre, said some criticism might stem from a misunderstanding that Yuan envisioned nationwide adoption of his super-hybrid rice.

"The 1,000kg goal is set for our experimental fields, which are about 100 mu [6.7 hectares]. It is an academic research. It is not for practice," he said.

The seed industry also has little interest in selling Yuan's super-hybrid rice to farmers.

Guo Derui, a sales manager for New Agriculture Seeds in Xinxiang county, Henan, said that farmers were usually willing to spend only about 400 yuan per mu to seed their fields.

Yuan's rice would definitely be too expensive for them, unless the government paid huge subsidies, he said.

"Farmers, of course, want the rice with high yields, but they care more about stable output," Guo said. "If Yuan's rice could produce 1,000kg this year, but only 200kg the next due to diseases, farmers would not consider it."