GRAIN is happy to announce its new book "The great food robbery: how corporations control food, grab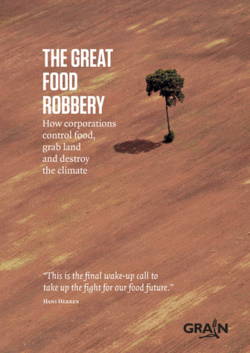 land and destroy the climate", just published with Fahamu Books and Pambazuka Press.
The global food system is in profound crisis. Over a billion people suffer from hunger each day, and this number is rising faster than the global population, even though there is more than enough food in the world feed everybody. Climate change, fuelled by a wasteful and polluting industrial food system, threatens to make things much worse. At the same time, corporations are grabbing millions of hectares of farmland and water systems in poor countries, and displacing rural communities.
"The great food robbery" looks at the forces driving the world into this crisis. It focuses on corporations and the ways they organise and control food production and distribution and how this destroys local food systems. It provides information and analysis that will enable and inspire people to take the food system back from corporations and put it in the hands of local communities.
This book brings together much of GRAIN's most recent research and writing and is divided into three sections: agribusiness, the climate crisis and land grabbing. Also available in Spanish and French
You can download a copy of the book in pdf format here
The book can be ordered from the Pambazuka Press website http://www.fahamubooks.org or by clicking on this link. For ordering bulk copies at discounted rate, please contact Aaron O'Dowling-Keane: [email protected]
"This is the final wake-up call to take up the fight for our food future. If the control over food and nutrition security are a concern to you, this is the book."
- Dr. Hans R. Herren, president, Millennium Institute
"For 20 years, GRAIN has fuelled anti-corporate campaigns with its groundbreaking research and biting analysis. Today, GRAIN is on the leading edge of the fight against land grabs, powered by its signature political clarity and deep roots in the social movements on the front lines. A must read."
- Naomi Klein, author of "The shock doctrine"
"Everyone should read 'The great food robbery' – every citizen, every political leader – to understand how agribusiness, which has created hunger and disease, is now contributing to the biggest resource grab since Columbus."
- Vandana Shiva, Navdanya and Research Foundation for Science, Technology & Ecology